Job Search Letters For Dummies, 4th Edition
ISBN: 978-1-118-43641-7
360 pages
July 2013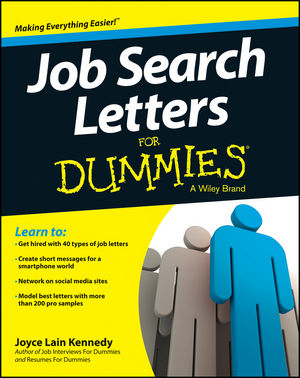 New-style job messages that get you in the door and on your way up

From sparkling cover letters to six-word bios, a fresh bevy of job search letters has grown powerfully useful for successful career communications. Job Search Letters For Dummies delivers the quality of New Era know-how you need right now to land good jobs and thrive. Whether you're a long-time professional or a recent college graduate — or somewhere in between — Job Search Letters For Dummies has you covered.

Job Search Letters For Dummies covers the gamut of leading-edge topics, including effective strategies for internal career communications on topics such as raises, promotions, and position changes; rules for communicating professionally with texts and networking on social media platforms such as twitter and LinkedIn; fresh and updated communication phrases to voice accomplishments and make job-fit statements; post-interview etiquette and letters such as thank-yous, "hire me" reinforcement notes, interest revival queries; and much more.
Get hired with 40 types of job letters
Create short messages for a smartphone world
Network on social media sites
Model best letters more than 200 pro samples
Whether you're a long-time professional or a recent college graduate — or somewhere in between — Job Search Letters For Dummies has you covered.


A note to job seekers from nationally syndicated careers columnist and author or Job Search Letters For Dummies, Joyce Lain Kennedy:
Welcome aboard, job seekers! Thanks for checking out this first guide to communications-supported job search and career growth in relentlessly changing technological times.
 The right messaging — what you say, why you say it, and when you say it — is as important today to your employment goals as it has been at any time since Leonardo da Vinci wrote the first professional resume in 1482.
 Consider recent job–finding history:
In 1986 fax machines and postal mail were the most popular ways to send resumes and cover letters.
In the 1990s the Internet boom kicked in with new tools to connect jobs and people: e-mail, websites, cell phones, mailing lists, and online bulletin boards.
In the 21st century the double-time march of recruiting technology skyrocketed, building a techno-swamp populated with endless ideas of how to connect work and people through smartphones, wonder tablets, apps, and social media for virtual networking.
 You're competing in a new world of work out there. If your job search is treading water — or even drowning— there's a better way. Make a splash! Engage hiring authorities through a communications-centered campaign with smart content.
See More
Introduction  1
Part I: New Tools for New Times  5
Chapter 1: Best Messages: Land Jobsand Leap Ahead 7
Chapter 2: Mobile Meets Job Search 15
Chapter 3: Newcomer Letters that Persuade 27
Part II: Essential Job Search Letters  45
Chapter 4: Job Ad Reply Letters and Notes 47
Chapter 5: Getting Help: Networking Letters 85
Chapter 6: Prospecting Letters 103
Chapter 7: After-Interview Letters 121
Part III: Creative Fresh Messages  139
Chapter 8: Social Media Messages 141
Chapter 9: Branding Statements, Bios, Profiles, and Speeches 151
Chapter 10: Interview Leave-Behind Docs 183
Chapter 11: References and Recommendations 195
Chapter 12: Online Portfolios, Prezis, and Videos 213
Chapter 13: Getting Ahead in the Job You Have 221
Part IV: Best Writing Elements  235
Chapter 14: Writing Your Way to a Job 237
Chapter 15: Language That Snap-Crackle-Pops 247
Chapter 16: Great Lines for Success 263
Chapter 17: Job Seeker's Skills Finder 279
Part V: The Part of Tens  299
Chapter 18: Remember Ten Social Forget-Me-Not Tips 301
Chapter 19: Top Ten Google Tips for Jackpot Job Search 307
Appendix: Directory of Job Letter Writers 319
Index  327
See More
Joyce Lain Kennedy is a nationally syndicated careers columnist. Her column, CAREERS NOW, appears twice weekly in newspapers and on websites across the U.S. Kennedy is the author of seven career books, including the award-winning Job Interviews For Dummies and Resumes For Dummies.
See More