Transforming IT Culture: How to Use Social Intelligence, Human Factors, and Collaboration to Create an IT Department That Outperforms
ISBN: 978-1-118-43653-0
224 pages
February 2013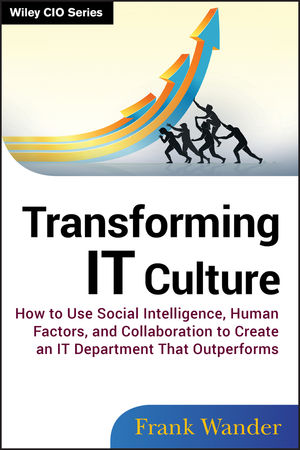 Practical, proven guidance for transforming the culture of any IT department
As more and more jobs are outsourced, and the economy continues to struggle, people are looking for an alternative to the greed-driven, selfish leadership that has resulted in corporations where the workers are treated as interchangeable parts. This book shows how the human factors can be used to unlock higher returns on human capital such that workers are no longer interchangeable parts, but assets that are cared about and grown. Refreshingly innovative, Transforming IT Culture shows how neuroscientific and psychological research can be applied in the IT workplace to unleash a vast pool of untapped potential.
Written by an expert on IT culture transformation
Considers the widespread "cultural blindness" in business today, and how it can be addressed
Draws on the author's repeated success transforming IT divisions across major corporations by applying the human factors
Explains why social intelligence, human factors, and collaboration are the source of harmony, shared learning, mutual respect, and value creation
Employees want positive change in business, something to stop the downward spiral we are on, both financially and emotionally. Transforming IT Culture shows how the essential ingredient to any high performing IT department is a culture where employees are valued and managed to their strengths. Using the Information Technology profession as a lens through which we can understand knowledge worker productivity and how to seriously improve it, this important new book reveals why Collaborative Social Systems are essential to every organization.
See More
FOREWORD xi
ACKNOWLEDGMENTS xiii
Introduction 1
The Passing of an Era 2
A New Era Brings a New Focus 3
A Quick Book Tour 6
Note 10
CHAPTER 1 A Shining Light: The Blind Spot Revealed 11
A Race to the Bottom 12
Human Understanding Enters the Workplace 13
We Have Been Taught Not to See or Feel 15
Unlocking Human Potential 16
Dawn of a New Productivity Model 17
Working Social 19
The Social System Is the Factory 20
Notes 21
CHAPTER 2 Corporate America's IT Organization: Failure Is All Too Common 23
Still Broken after All These Years . . . 24
Unfortunately, the Truth Is Worse 29
If We Would Just Embrace and Trust Our People . . . 30
Offshore Outsourcing: A Deeper Look 33
Notes 36
CHAPTER 3 Workers as Machines: A Social Pathology 37
He's a Good Hand 37
The Machine Age: Still Felt Today 38
Birth of Corporate Easter Islands 41
Our Human Resource Practices Remain Primitive 41
Selectively Continue the Past; Fully Embrace the Future 43
Notes 44
CHAPTER 4 The Unseen Art and Emotion of IT: The Acme Inc. Philharmonic Orchestra: Knowledge as Notes, Leaders as Conductors, Programmers as Composers 45
A Product of Mind and Emotion 46
Limitations of Language and Our Resultant Inability to Communicate 50
Social Cohesion and Conceptual Unity 52
And the Instruments Keep Changing 56
The Encore. A Callback. Bravo! 57
Note 57
CHAPTER 5 Case Study: An Unproductive State of Mind: Toxic Leadership and Its Aftermath 59
Toxic to Competitive Advantage 64
Conclusion 64
Note 66
CHAPTER 6 What Are We Waiting For? Applied Science at Work 67
Hawthorne Studies 68
Pygmalion in the Classroom 70
Empathy, Caring, and Compassion 71
Organizational Citizenship Behavior 74
Mood Is Contagious 76
Limbic System 77
Maslow: Humanism in the Workplace 80
Working Memory 84
Mirror Neurons 85
Other Thoughts 87
Notes 87
CHAPTER 7 Empathy and Compassion: The Socially Cohesive and Resilient Organization 89
The Toxic Handler: Empathy and Compassion in Action 90
Dysfunctional Organizations Have Less Time for Compassion 92
Empathy and Compassion: A Research Perspective 93
Notes 96
CHAPTER 8 Designing a Collaborative Social System: Working Social: How the Right Culture Unlocks Productivity 97
Designing Collaborative Social Systems 98
Why a Collaborative Social System Matters 103
Notes 106
CHAPTER 9 The Social Compact: Organizational Citizenship Behavior 107
Living the Values 108
Shaping IT: One Interaction at a Time 110
Courtesy Is Contagious 111
Giving versus Getting 119
Citizenship Performance 120
Notes 122
CHAPTER 10 The Servant Leader: Prosocial and Authentic 123
Opening Night 124
Using Social Intelligence and Caring to Lead from Below 125
Conducting Styles 127
Servant Leadership in IT: Giving Credit While Silently Helping Drive Group Success 128
Academic Views 131
Moving the Group from "I Get It" to "I See It" 133
Notes 135
CHAPTER 11 Social and Emotional Intelligence: The Organizational Canvas Meets the Social Paintbrush 137
Personal and Social Competence 138
Sogence in Action 140
Understanding Expression: A Social Skill from Our Past 142
Good Vibrations: The Right Social Sentiment Energizes a Performance 144
Notes 150
CHAPTER 12 Designing an Innovative Culture 151
Talent and Mood 152
The Human Factors 153
Build a Culture of Creativity 154
CHAPTER 13 Workforce Planning: Maximizing the Productivity of Your Talent—Today and Tomorrow 157
Workforce Planning Gap 158
Goals and Process 160
Context Diagram 161
Outsourcing and Offshoring 164
Notes 172
CHAPTER 14 How to Successfully Transform Your Organization: Putting It All Together 173
High-Level Outline 175
Best Practices in Detail 185
Conclusion 187
ABOUT THE AUTHOR 189
INDEX 191
See More
FRANK WANDER is founder and CEO of the IT Excellence Institute, an organization dedicated to answering Peter Drucker's challenge to increase the productivity of knowledge workers. Prior to starting the Institute, Frank was CIO at Guardian Life for more than five years, transforming the culture and capability of IT to deliver business projects on time and on budget, across 90% of its portfolio. He is a highly sought-after speaker at leading IT industry events, contributes articles to CIO Magazine and Computerworld, and has been featured in the Wall Street Journal.
See More