E-book
Chinese For Dummies, 2nd Edition
ISBN: 978-1-118-43654-7
384 pages
February 2013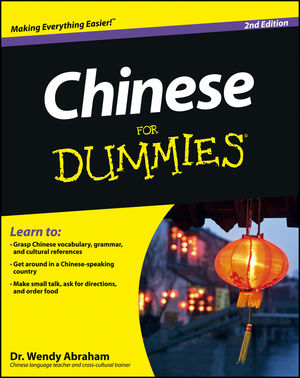 The fast and easy way to learn to speak Mandarin Chinese
China has become a major influence in the world today, and Mandarin Chinese is the world's most widely spoken language. Not only is China full of opportunities in business and politics, but Chinese culture, continues to make its way into the western world.
With an updated CD including real-life conversations, Chinese For Dummies expands grammar, verb conjugations, and pronunciations—and includes a refreshed mini-dictionary complete with even more essential vocabulary.
Basic vocabulary
Everyday conversations, including phone dialogue and small talk
Speaking in perfect pitch and tone
Easy-to-understand grammar rules
Getting around in a Chinese-speaking country
Cultural references like maintaining face, dining etiquette, and social mores
Also included is an audio CD that features actual Chinese conversations by native Chinese speakers, which allows you to hear how Chinese is really spoken. Written by a leading Chinese language teacher in the United States, Chinese for Dummies introduces an often-daunting language to you in a fun-and-easy For Dummies manner.
CD-ROM/DVD and other supplementary materials are not included as part of the e-book file, but are available for download after purchase.
See More
Introduction 1
Part I: Getting Started 7
Chapter 1: Chinese in a Nutshell 9
Chapter 2: The Written Word: Checking out Chinese Characters 21
Chapter 3: Warming Up with the Basics: Chinese Grammar 31
Chapter 4: Getting Started with Basic Expressions: N¨« H¨£o! 51
Chapter 5: Getting Your Numbers, Times, and Measurements Straight 65
Chapter 6: Speaking Chinese at Home 85
Part II: Chinese in Action 97
Chapter 7: Getting to Know You: Making Small Talk 99
Chapter 8: Dining Out and Shopping for Food 111
Chapter 9: Shopping Made Easy 137
Chapter 10: Exploring the Town 159
Chapter 11: Taking Care of Telecommunications 171
Chapter 12: Chinese at School and at Work 187
Chapter 13: Recreation and Outdoor Activities 205
Part III: Chinese on the Go 217
Chapter 14: Planning a Trip 219
Chapter 15: Making Cents of Money 231
Chapter 16: Getting Around 247
Chapter 17: Asking for Directions 265
Chapter 18: Finding a Place to Stay 279
Chapter 19: Handling Emergencies 295
Part IV: The Part of Tens 309
Chapter 20: Ten Ways to Learn Chinese Quickly 311
Chapter 21: Ten Things Never to Do in China 315
Part V: Appendixes 319
Appendix A: Mini-Dictionary 321
Appendix B: Chinese Verbs 343
Appendix C: On the CD 347
Appendix D: Answer Key 349
Index 355
See More
Dr. Wendy Abraham has taught Chinese language, literature, and culture at universities throughout the United States. She has Master's degrees in both Chinese Language and Education, an EdD in International Educational Development from Teachers College, Columbia University, and was a PhD candidate in Chinese literature at Stanford University. Dr. Abraham has lived in the People's Republic of China and Taiwan, where she conducted post-graduate research on oracle bones and the origins of the Chinese writing system.
See More