The Public Participation Handbook: Making Better Decisions Through Citizen Involvement
ISBN: 978-1-118-43704-9
288 pages
March 2005, Jossey-Bass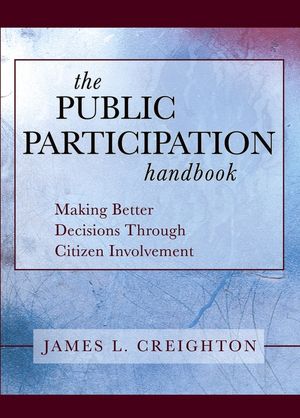 Internationally renowned facilitator and public participation consultant James L. Creighton offers a practical guide to designing and facilitating public participation of the public in environmental and public policy decision making. Written for government officials, public and community leaders, and professional facilitators, The Public Participation Handbook is a toolkit for designing a participation process, selecting techniques to encourage participation, facilitating successful public meetings, working with the media, and evaluating the program.  The book is also filled with practical advice, checklists, worksheets, and illustrative examples.
See More
Tables, Figures, Exhibits, and Worksheets xiii
Preface xv
The Author xix
Introduction 1
PART ONE: OVERVIEW OF PUBLIC PARTICIPATION 5
2 The Rationale for Public Participation 14
PART TWO: DESIGNING A PUBLIC PARTICIPATION PROGRAM 27
3 Decision Analysis 29
4 Process Planning 45
5 Implementation Planning 78
PART THREE: PUBLIC PARTICIPATION TOOL KIT 85
6 Techniques for Getting Information to the Public 89
7 Techniques for Getting Information from the Public 102
PART FOUR: PUBLIC MEETING TOOLS 139
8 Designing Public Meetings 143
9 Developing Interactive Meetings 149
10 Facilitating Public Meetings 166
11 Determining Meeting Logistics 173
PART FIVE: GENERAL-PURPOSE TOOLS 181
12 Working with Advisory Groups 183
13 Conducting Interviews 190
14 Working with the Media 196
15 Analyzing Public Comment 205
16 Evaluating Public Participation 214
17 Using Public Participation Consultants 223
PART SIX: PUBLIC PARTICIPATION IN ACTION 227
18 Public Participation Cases 229
Conclusion 243
An Example: Sunny Glen Landfill Siting Public Participation Plan 247
Index 255
See More
James L. Creighton is president of Creighton & Creighton, Inc., in Los Gatos, California, at www.publicparticipation.com. He has been an independent consultant in the public participation field since 1972 and has designed or conducted more than three hundred public participation programs. He is the founding president of the International Association for Public Participation (IAP2), an international organization of professionals and people interested in the public participation field.
See More