Leading for Literacy: A Reading Apprenticeship Approach
ISBN: 978-1-118-43726-1
336 pages
December 2016, Jossey-Bass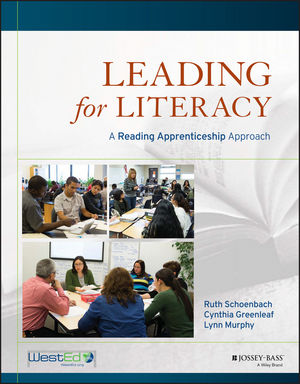 Clear, on-the-ground guidance for Reading Apprenticeship implementation
Leading for Literacy provides tools and real-life examples to expand the benefits of a literacy approach that sparks students' engaged reading and thinking across disciplines, from middle school through community college. A companion to the landmark Reading for Understanding, this book guides teachers, leaders, and administrators through the nuts, bolts, benefits, and stumbling blocks of creating Reading Apprenticeship communities that extend a culture of literacy beyond individual classrooms.
This book explains how to generate authentic buy-in from teachers and administrators, use the Reading Apprenticeship Framework to turn reform overload into reform coherence, and create literacy teams, professional learning communities, and Reading Apprenticeship communities of practice that sustain an institutional focus on a student-centered, strengths-based culture of literacy.
Key insights from Reading Apprenticeship practitioners across the country address how to get started, build momentum, assess progress, and build partnerships and networks across schools, districts, campuses, and regions.
Persistently low levels of adolescent literacy continue to short-change students, contribute to discredited high school diplomas, and cause millions of students to drop out of high school and community college. Forty percent or more of community college students require remedial reading courses as college freshman. The researchers at WestEd's Strategic Literacy Initiative developed the Reading Apprenticeship Framework to provide educators with a proven path to improving literacy for all students, and this book provides clear guidance on bringing the framework to life.
How to integrate Reading Apprenticeship with existing reform efforts
How to use formative assessment to promote teacher and student growth
How to coach and empower teachers
How to cultivate literacy leadership
How to provide long-term support for a strong content-literacy program
Nationwide classroom testing has shown Reading Apprenticeship to promote not only literacy and content knowledge, but also motivation and positive academic identity—leading to better student outcomes that reach beyond the classroom walls. Leading for Literacy lays out compelling ways to spread the benefits of Reading Apprenticeship, with practical guidance and real-world insight.
See More
List of Close-Ups vii
List of Team Tools ix
Foreword xi
Preface xiii
CHAPTER 1 How to Start? 1
CHAPTER 2 Partnering for Leadership 23
CHAPTER 3 The Role of Inquiry in Reading Apprenticeship Professional Learning 49
CHAPTER 4 Setting the Social and Personal Foundations for Inquiry 69
CHAPTER 5 Exploring Reading as Colleagues 79
CHAPTER 6 Exploring Instruction as Colleagues 127
CHAPTER 7 Building Capacity, Momentum, and Sustainability 189
APPENDIX A Reading Apprenticeship Framework 241
APPENDIX B The Research Rationale for Inquiry-Based Teacher Professional Development 243
APPENDIX C Assessment Tools 255
Index 293
See More
Ruth Schoenbach and Cynthia Greenleaf, Ph.D., are co-directors of WestEd's Strategic Literacy Initiative (SLI), a teacher professional development and research organization based in Oakland, California. They are developers of the Reading Apprenticeship Framework.
Lynn Murphy is the Director of Materials Development for WestEd's Strategic Literacy Initiative.
See More