Decoding the IT Value Problem: An Executive Guide for Achieving Optimal ROI on Critical IT Investments
ISBN: 978-1-118-43805-3
208 pages
September 2013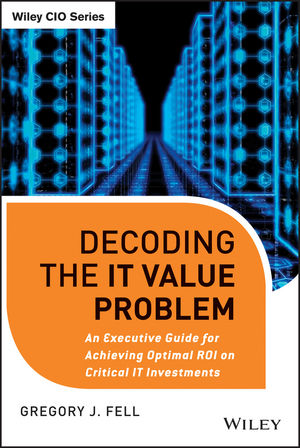 Gain greater returns from your IT investments
Revealing the secrets to proven, effective strategies that enable businesses to leverage the full value of highly expensive IT investments, Decoding the IT Value Problem is a no-nonsense guide for making smart IT investments and cutting through the noise of vendor marketing and media hype. Author Gregory Fell describes in rich detail the actual processes, frameworks, infrastructure and discipline required to develop and execute corporate IT strategies that are profitable and sustainable.
Provides a proven framework for developing and successfully executing profitable IT strategies
Plain English guidance for gaining the most return on investment from critical IT investments
Explores developing and executing IT strategy; forecasting, calculating and managing IT costs; leveraging IT investments to drive business growth; IT and the evolving global economy; IT value management; communicating IT value across the enterprise; and leading change, transformation and innovation
If you're a senior level manager or executive responsible for managing IT value in your business, Decoding the IT Value Problem is the practical and clearly written guide you'll turn to, with tools and tips for smart investment and management of IT costs.
See More
Foreword: Uncovering an Essential Skill of IT Management xi
Preface xiii
Acknowledgments xv
Introduction 1
Chapter 1 The Value of IT 3
The 80/20 Law of IT Spending 5
The User Interface Is Not the Project 6
Just Like Buying a Car 8
Don't Forget Maintenance Costs 8
The Math of Availability 9
My Favorite Analogy 11
The Hard Facts of Uptime 12
Chapter 2 Why IT Projects Fail 17
Technology Is Not the Problem 19
Communication Is Critical 20
IT Projects Are Really Business Process Change Projects 22
When You Change a Process, Don't Forget the People 24
Paradigm Shifts Are Real 24
Chapter 3 The Washington Principle 27
The Skills of a Leader 29
Why We Need IT Governance 31
A Process for Generating Commitment 32
They Cannot Read Your Mind 35
Multiple Levels of Governance 36
Delivering Expected Value 37
The Basics of Good Governance 38
Chapter 4 Balancing Risk and Exposure 41
The CIA Model of Risk Assessment 43
An Easy Method for Modeling Risk 44
The Risk Profile Matrix 44
Bring Options and Recommendations to the Table 49
Managing IT Security Risks 52
What about the Black Swan? 53
Note 54
Chapter 5 Time Is the Enemy 55
Riding to Nowhere? 57
It's All about Time 62
If Necessary, Rebaseline the Project 63
The 5 Whys 63
Chapter 6 Software Is Not Manufactured 67
The Art of Programming 69
Consider Agile or Lean Methodologies 73
Chapter 7 Technology Disruptors 77
Keep Your Eyes on the Horizon 79
Think Like a VC 81
When Technology Disruption Hits Close to Home 82
Specific Trends to Watch 84
Beyond the Keyboard and Screen 85
Encourage Exploration, Experimentation, and Fast Failure 86
Chapter 8 The Office of Know 89
Correcting a Classic Case of Misalignment 91
Are CIOs Wired Differently? 92
Sometimes There's a Good Reason for Being Risk Averse 94
Technology Is Not the Only Solution 95
The View from the Crow's Nest 97
Faster, Nimbler, and More Proactive 99
Walking the Assembly Line 100
Gone Hunting 102
Moving from No to Yes 103
Chapter 9 Enterprise Resource Planning: One Size Fits Most 105
ERP Basics 107
ERP versus Best of Breed 108
Single Instance versus Multiple Systems 109
Keeping ERP Systems Up to Date 110
Chapter 10 Outsourcing IT 113
Three Strategies 115
Your Vendor Is Not Your Partner 117
The Value of Being Selective 118
Outsourcing to the Cloud 120
Scale Counts 121
Offshoring 123
Outcome?]Based Outsourcing 123
Chapter 11 Rebaselining the IT Budget 127
Robbing Peter to Pay Paul Is Not a Good Business Strategy 129
The Annual Budget Trap 131
A Different Approach 133
Moore's Law and the Cost of IT 136
And the Moral of the Story Is . . . 136
Some IT Projects Are Very Expensive 137
Chapter 12 The CFO's Perspective 141
Cash, Risk, and Benefits 144
Chapter 13 Optimizing the CEO–CIO Relationship 153
Making a Strategic Contribution 155
The CIO Evolution 158
Chapter 14 Conclusions 161
Don't Burn Your Money 167
Note 170
Recommended Reading 171
About the Author 173
Index 175
See More
GREGORY J. FELL is the Chief Strategy Officer at Crisply, an enterprise SaaS (software-as-a-service) big data company that pioneered the algorithmic quantification of work. Prior to joining Crisply in 2013, Mr. Fell served as vice president and chief information officer of Terex Corporation, where he led a strategic transformation of the IT organization.
Before joining Terex, Mr. Fell spent nearly twenty years with Ford Motor Company. He started as a developer, and worked his way through a variety of management roles supporting the global engineering and manufacturing functions of the company. He has domain expertise on CAD/CAM/CAE systems, lean manufacturing, and control systems. He is a graduate of Michigan State University and spent several years on staff in the College of Engineering as a senior research programmer and instructor.
See More