Crohn's and Colitis For Dummies
ISBN: 978-1-118-43959-3
336 pages
May 2013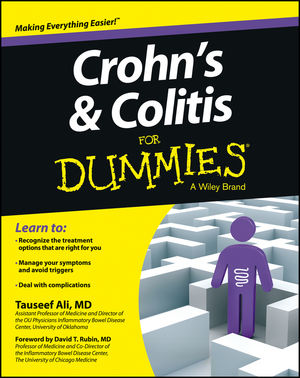 The ultimate reference for those with Crohn's and colitis and their family and friends
Crohn's disease and colitis are frustrating, often debilitating gastrointestinal diseases that can have a severe impact on the overall health of those who suffer from them. According to the latest estimates, more than 600,000 patients in North America have Crohn's disease. Written by a physician specialising in the treatment of IBDs, Crohn's and Colitis For Dummies is a complete plain-English guide to understanding, treating, and living well with these diseases.
Helps readers actively recognize symptoms of Crohn's and colitis and explains the diagnostic procedures doctors use to identify these diseases
Outlines how the whole body is affected by Crohn's and colitis, and the potential hazards of letting the disease go untreated
Offers expert advice and guidance on controlling Crohn's and colitis with diet and outlines the treatment options of medicines and surgery, including the various risks and benefits of each
Provides practical advice for parents of children with Crohn's and colitis with insights into how children's treatment options can differ from those of adults
See More
Forword xxi
Introduction 1
Part I: The Who, What, and Why of Crohn's and Colitis 7
Chapter 1: Crohn's and Colitis One Step at a Time 9
Chapter 2: Defi ning Crohn's and Colitis 13
Chapter 3: How the Digestive System Works 41
Chapter 4: Who Gets Crohn's and Colitis and Why 53
Part II: Getting Medical Help  67
Chapter 5: Assembling Your Healthcare Team 69
Chapter 6: Getting a Diagnosis 77
Chapter 7: Taking Medications for Crohn's and Colitis 93
Chapter 8: Considering Surgery 117
Part III: Healing and Dealing with the Disease  141
Chapter 9: Paying Attention to What You Eat 143
Chapter 10: Preventing Health Problems 165
Chapter 11: Alternative and Complementary Therapies 181
Part IV: Living and Coping with Crohn's and Colitis  195
Chapter 12:Living with Crohn's and Colitis 197
Chapter 13:Avoiding Triggers 211
Chapter 14:Working and Traveling with Crohn's and Colitis 225
Part V: Considering Special Populations with Crohn's and Colitis  237
Chapter 15: Kids with Crohn's and Colitis239
Chapter 16: Having Sex and Getting Pregnant with Crohn's and Colitis 255
Part VI: The Part of Tens  269
Chapter 17: Ten Myths about Infl ammatory Bowel Disease 271
Chapter 18: Ten Reliable Resources 279
Glossary 287
Index  297
See More
Tauseef Ali, MD, is an expert in the field of inflammatory bowel disease. Currently, he serves as a faculty member in the Section of Digestive Diseases and Nutrition at the University of Oklahoma College of Medicine. He is also the director of the OU Physicians Inflammatory Bowel Disease Center. Dr. Ali has served as an academic editor-in-chief of the World Journal of Gastroenterology.
See More