E-book
History of Quebec For Dummies
ISBN: 978-1-118-43974-6
384 pages
May 2013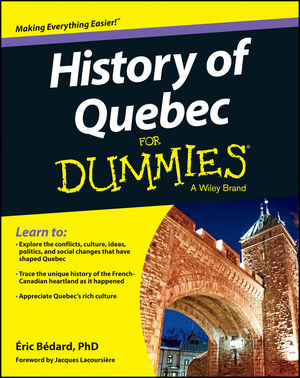 Grasp the unique history of Quebec? Easy.
Packing in equal parts fun and facts, History of Quebec For Dummies is an engaging and entertaining guide to the history of Canada's second-largest province, covering the conflicts, cultures, ideas, politics, and social changes that have shaped Quebec as we know it today.
"My country isn't a country, it is winter!" sings the poet Gilles Vigneault . . . Indeed, Quebec is winter, snow, cold, and freezing winds. It is also the majestic river Saint-Laurent and its numerous confluences across America. It is vast, dense forests, countless lakes, magnificent landscapes of Saguenay, Charlevoix, Côte-Nord, or Gaspésie. Quebec is also the "old capital" perched on the Cape Diamond facing the sea. It is Montreal, the first French city of North America, the creative and innovative metropolis, junction for different cultures and heart of a nation yearning to belong to the world's history. History of Quebec For Dummies tells Quebec's fascinating story from the early fifteen hundreds to the present, highlighting the culture, language, and traditions of Canada's second-largest province.
Serves as the ideal starting place to learn about Quebec
Covers the latest, up-to-the-minute findings in historical research
Explores the conflicts, cultures, ideas, politics, and social changes in Quebec
Lifelong learners and history buffs looking for a fun-yet-factual introduction to the grand scope of Quebec history will find everything they need in History of Quebec For Dummies.
See More
Foreword  xiii
Introduction  1
Part I: New France (1524–1754)  7
Chapter 1: Looking for China — and Finding Quebec! (1524–1610) 9
Chapter 2: Founding a Colony (1611–1660) 25
Chapter 3: Exploring a Continent (1661–1701) 41
Chapter 4: A French Province (1701–1754) 55
Part II: Conquered but Still Alive (1754–1867)  71
Chapter 5: The Coming of the English (1754–1763) 73
Chapter 6: The American Temptation (1763–1790) 85
Chapter 7: The Birth of Lower Canada and the Parti Canadien (1791–1822) 97
Chapter 8: From the Repression of the Patriotes to the Act of Union (1823–1840) 111
Chapter 9: Responsible Government and Religious Awakening (1840–1860) 125
Chapter 10: Confederation (1860–1867) 137
Part III: Survival (1867–1939)  149
Chapter 11: "Riel, Our Brother, Is Dead" (1867–1896) 151
Chapter 12: Conscription (1897–1928) 163
Chapter 13: The Depression (1929–1938) 175
Part IV: The Quiet Reconquest (1939–1967)  189
Chapter 14: War (1939–1944) 191
Chapter 15: Le Chef (1944–1959) 203
Chapter 16: The "Quiet Revolution" (1959–1962) 217
Chapter 17: The Reforms Continue (1963–1967) 231
Part V: Province or Country? (1967 to Today)  247
Chapter 18: Revolt (1967–1972) 249
Chapter 19: The Opening of James Bay and the Election of the Parti Québécois (1973–1979) 263
Chapter 20: Federalism: A Risk Worth Taking (1980–1987) 279
Chapter 21: Almost a Country (1987–1995) 295
Chapter 22: Balanced Budget and Reasonable Accommodation (1996–2012) 311
Part VI: The Part of Tens  327
Chapter 23: Ten Mythical Personalities 329
Chapter 24: Ten Quebec Symbols 337
Chapter 25: Ten Quebec Landmarks 345
Index  353
See More
Éric Bédard received his PhD from McGill University, and has a degree in international affairs from the Institute of Political Studies in Paris. A professor at the University of Quebec, he is the author of Les Réformistes, for which he won the Clio-Quebec award from the Canadian Historical Association.
See More