E-book
Renegades Write the Rules: How the Digital Royalty Use Social Media to Innovate
ISBN: 978-1-118-44228-9
224 pages
August 2012, Jossey-Bass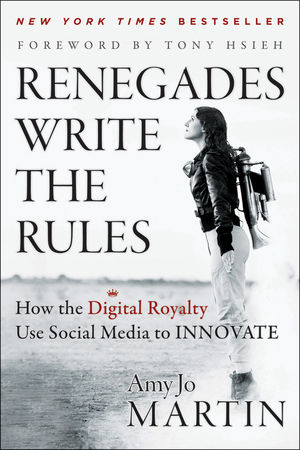 Learn the rules to building loyal (and lucrative) digital followings
Renegades Write the Rules reveals the innovative strategies behind the social media success of today's top celebrities, brands, and sports icons, and how you can follow their lead.
Author Amy Jo Martin is the founder of Digital Royalty and the woman who pioneered how professional sports integrate social media. In this book she shows how to build a faithful following and beat the competition clamoring for people's attention by continually delivering value - when, where, and how people want it. People want to be heard, to be involved, to be entertained, to be adventurous, to be informed.
Reveals the winning strategies for using social media to achieve dramatic results
Shows how to gain influence with social media that requires an unprecedented (and potentially uncomfortable) level of accessibility and ongoing affinity
Filled with illustrative examples of social media successes (including Dwayne 'The Rock' Johnson, Shaquille O'Neal, and Nike) that show how humanizing a brand through social media leads to monetization
Explores how Amy Jo Martin and other successful entrepreneurs are becoming renegades by using social media to innovate their personal and professional lives
The book reveals one of the basic rules of digital media success: Humans connect with humans, not logos and creative taglines.
See More
Foreword by Tony Hsieh ix
0 The Renegade Way 1
Rule 1 Be the Media 19
Rule 2 Show Some Skin 33
Rule 3 Unmask Your Motives 51
Rule 4 Get Comfortable Being Uncomfortable 69
Rule 5 Ask Forgiveness Rather Than Permission 91
Rule 6 Consensus Is the True Authority 111
Rule 7 There's a New ROI in Town 133
Rule 8 The Act of Good Can Be Scaled 149
The Next Chapter 171
Appendix A: Digital Royalty's Core Values 178
Appendix B: Lessons Learned 180
Notes 183
Acknowledgments 185
The Author 189
Index 191
To my Dad, my mentor renegade.
I'm forever grateful that you took me straight to the top of the double black diamond that day and made me skip the bunny slope.
And to you, Mom, thank you for your constant empowerment. You're the most positive person I know. I love you both.
See More
Amy Jo Martin is founder of the social media consultancy Digital Royalty and Digital Royalty University. She's the former director of digital media and research for the NBA's Phoenix Suns. She pioneered how professional sports integrate social media and planned the first-ever professional sports Tweet Up with Shaquille O'Neal. Martin was named one of Forbes' Best-Branded Women on Twitter with nearly 1.2 million devoted followers (@AmyJoMartin). She is a regular contributor to the Harvard Business Review, and you can visit her Web site at www.amyjomartin.com.
See More