Property Management Kit For Dummies, 3rd Edition
ISBN: 978-1-118-44377-4
432 pages
February 2013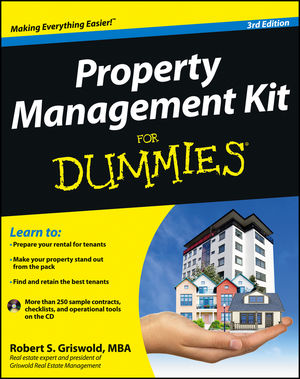 Discover how to be a landlord with ease
Thinking about becoming a landlord? Property Management Kit For Dummies gives you proven strategies for establishing and maintaining rental properties, whether a single family or multi-resident unit. You'll find out how to prepare and promote your properties, select tenants, handle repairs, avoid costly mistakes and legal missteps—and meet your long-term goals.
Now you can find out if you really have what it takes to successfully manage a rental property, and you'll learn all about the various options for hiring someone else to manage your property for you. You'll find out the right way to prepare your properties for prospective tenants, set the rent and security deposit, clean up properties between tenants, and verify rental applications. In no time at all, you can become a top-notch property manager by working efficiently with employees and contractors to keep your properties safe and secure.
Manage your time and money wisely
Acquire a property and prepare it for tenants
Make your property stand out and attract tenants
Keep good tenants and get rid of bad ones
Collect and increase rent
Evaluate the different types of insurance and understand income and property taxes
Complete with lists of ten reasons to become a rental property owner, ten ways to rent your vacancy, and the ten biggest mistakes a landlord can make, Property Management Kit For Dummies helps you achieve your dream of being a successful residential rental property owner.
CD-ROM and other supplementary materials are not included as part of the e-book file, but are available for download after purchase.
See More
Introduction 1
Part I: So You Want to Be a Landlord? 7
Chapter 1: Property Management 101 9
Chapter 2: Do You Have What It Takes to Manage Your Own Rental Property? 21
Chapter 3: Managing Your Property Yourself or Hiring a Pro 33
Chapter 4: Taking Over the Property 47
Part II: Renting Your Property 57
Chapter 5: Getting Your Rental Property Ready for Prospective Tenants 59
Chapter 6: The Big Three of Property Management: Rent, Security Deposits, and Rental Contracts 77
Chapter 7: FOR RENT: Generating Interest in Your Rental 95
Chapter 8: Handling Prospects When They Come A'Calling 125
Chapter 9: Strutting Your Stuff: Making Your Property Stick Out 147
Chapter 10: Eenie, Meenie, Miney, Mo: Selecting Your Tenants 167
Part III: The Brass Tacks of Managing Rentals 195
Chapter 11: Moving In the Tenants 197
Chapter 12: Collecting and Increasing Rent 219
Chapter 13: Keeping the Good Tenants (And Your Sanity) 235
Chapter 14: Dealing with Problem Tenants 245
Chapter 15: Moving Out the Tenants 261
Part IV: Techniques and Tools for Managing the Property 275
Chapter 16: Working with Employees and Contractors 277
Chapter 17: Maintaining the Property 291
Chapter 18: Keeping Safety and Security in Mind 307
Part V: Money, Money, Money! 327
Chapter 19: Two Necessities of Property Management: Insurance and Taxes 329
Chapter 20: Financial Management and Record-Keeping 341
Chapter 21: Finding New Ways to Increase Your Cash Flow 353
Part VI: The Part of Tens 373
Chapter 22: Ten Reasons to Become a Rental Property Owner 375
Chapter 23: Ten Ways to Rent Your Vacancy 379
Appendix: About the CD 385
Index 393
See More
Robert S. Griswold, MBA, is a successful real estate investor and property manager with a large portfolio of residential and commercial rental properties. He is the real estate expert for NBC San Diego, the lead columnist for the nationally syndicated columns "Rental Roundtable" and "Rental Forum," and co-author of Real Estate Investing For Dummies.
See More