Trade Mindfully: Achieve Your Optimum Trading Performance with Mindfulness and Cutting Edge Psychology
ISBN: 978-1-118-44561-7
312 pages
December 2014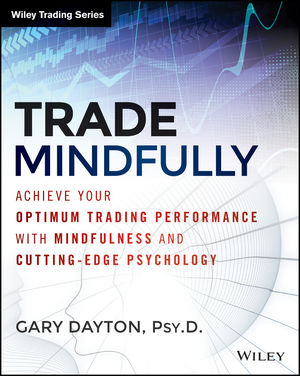 Overcome psychological obstacles to increase trading success
Successful traders need to be well-versed and skilled in a wide range of business and economic areas. But now, in addition to effective trading strategies and sound money management techniques, traders need to possess the know-how to handle the mental and emotional challenges of working in a highly volatile environment. Trade Mindfully is a unique resource that applies cutting-edge psychological techniques to trading skills, allowing readers to improve their mental outlooks and maximize the potential of their trading strategies. This book draws upon recent psychological research in behaviorism to teach new approaches that call for better focus, more confidence, and more positive perspectives and outcomes.
One of the key concepts covered in the book is mindfulness, a state of mind traditionally touted in the East for its ability to reduce stress and increase perspective, useful qualities for traders looking to rise above emotional obstacles and the poor results they cause. The author also discusses the importance of High Value Trading Actions (HVAs), specific actions that are under a trader's control. With this guide, trading professionals will be able to form solid strategies based on a combination of these notions and practices, leading to higher levels of trading performance.
Applies sound psychological practice and evidence-based research to the trading profession
Covers the psychological perspectives and mental skills needed to succeed in today's trading world
Focuses on key concepts that lead to deliberate practice, specific trading activities, and increased awareness and focus
Designed to help traders deal with the emotional challenges that come with uncertainty and risk
Trade Mindfully touches on the most essential concepts for anyone intrigued by what trading psychology has to offer, and delivers the best strategies for achieving the right mental skills for peak performance.
See More
Acknowledgments ix
About the Author xi
Introduction 1
PART I UNDERSTANDING YOUR MIND 7
CHAPTER 1 Traders' Mental Blind Spots 9
CHAPTER 2 Strong Emotions in Trading 35
CHAPTER 3 The Struggle to Control and Eliminate Emotions 59
CHAPTER 4 The Necessity of Emotions in Trading 79
PART II USING CUTTING-EDGE PSYCHOLOGY 95
CHAPTER 5 The Traders' Psychological Edge Lies in a Different Kind of Thinking 97
CHAPTER 6 Practice Mindfulness, Trade Mindfully 121
CHAPTER 7 Defusion: An Advanced Mindfulness Skill 145
CHAPTER 8 Acceptance and Committed Trading 171
PART III MAXIMIZING YOUR TRADING PERFORMANCE 203
CHAPTER 9 The Trading Psychology Process: High-Quality Preparation 205
CHAPTER 10 The Trading Psychology Process: Eff ective Execution 231
CHAPTER 11 The Trading Psychology Process: Constructive Self-Assessment 251
CHAPTER 12 Final Thoughts 273
References 277
Index 285
See More
GARY DAYTON, Psy.D., is a psychologist, trader, and president of Peak Psychology, Inc., a consulting firm that specializes in developing peak performance in traders.
See More
Learn more about