Business Efficiency For Dummies
ISBN: 978-1-118-44949-3
408 pages
January 2013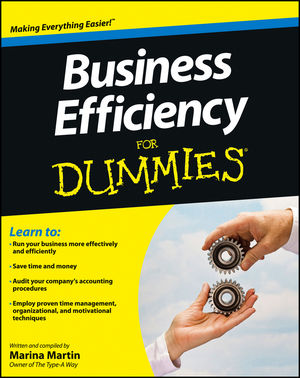 Proven tools and techniques to improve business efficiency
In today's competitive environment, it's the businesses with the right set of tools and technologies that get ahead, while others are left in the dust. Business Efficiency For Dummies provides you with practical, useful information on how to run a more effective business while saving time and money in the process.
Analyzing the world's most effective companies and aimed at top-level business owners and managers, Business Efficiency For Dummies provides the foundation all companies can build upon. You'll discover how to take an objective view of your company's current processes and procedures; what to consider when evaluating analysis tools like Six Sigma, Lean, 5S, and Balanced Scorecard to get your company buttoned up and streamlined; how to audit your company's accounting procedures to rein in and control your AP and AR departments; how to train employees to work more efficiently; how to bring efficiency into the future; and much more.
Find out how to stay afloat in the current economy
Discover affordable, approachable methods for streamlining business practices for greater profit
Employ the latest tools and technologies to maximize business efficiency
The tools and techniques described in Business Efficiency For Dummies are indispensable for business leaders and managers looking to identify weaknesses and improve business productivity and profit.
See More
Introduction 1
Part I: Business Efficiency Basics 7
Chapter 1: Business Efficiency 101 9
Chapter 2: Unfolding Your Efficiency Roadmap 23
Part II: Making Strides Toward Efficiency 33
Chapter 3: You Are Here: MeasuringWhere You Stand 35
Chapter 4: I Thought I Saw a Bad Habit: Hunting Down Inefficiencies and Their Solutions 55
Chapter 5: Efficiency on Impact: Understanding the Ripple Effect of Change 71
Chapter 6: To Efficiency . . . and Beyond: Getting Where You Want to Be 83
Chapter 7: Efficiently Executing Your Efficiency Plan 97
Part III: Increasing Operational Efficiency 113
Chapter 8: Channeling Henry Ford: Process Automation 115
Chapter 9: The Bottom Line: Financial Efficiency 129
Chapter 10: Effi ciency, at Your Service 145
Chapter 11: Ready, Aim, Hire: Human Resources Efficiency 175
Chapter 12: Streamlining Your Sales Process 199
Chapter 13: Up to My Gears in Effi ciency: Manufacturing Efficiency 223
Part IV: Increasing Employee Efficiency 237
Chapter 14: I Love You, You're Perfect, Now Change: Change Management 239
Chapter 15: Before You Get Hit by a Bus: Knowledge Capture and Transfer 251
Chapter 16: Fine-Tuning Internal Communication 267
Chapter 17: Helping Employees BeMore Effi cient 287
Chapter 18: Holding Effective Meetings and Events 313
Chapter 19: Painless Project Management 339
Part V: The Part of Tens 359
Chapter 20: Ten Areas Ripe for Efficiency Improvement 361
Chapter 21: Ten Efficiency Best Practices 367
Chapter 22: Ten Hidden Hurdles to Overcome in Pursuit of Efficiency 373
Index 379
See More
Marina Martin is the owner of The Type-A Way, a business efficiency consulting firm focusing on cost reduction and job satisfaction enhancement through innovation and automation. She regularly conducts one-on-one and small group trainings.
See More