E-book
A Companion to Modern Chinese Literature
ISBN: 978-1-118-45160-1
592 pages
August 2015, Wiley-Blackwell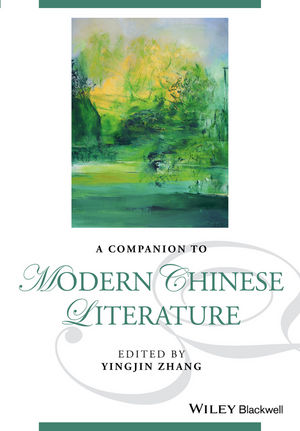 This wide-ranging Companion provides a vital overview of modern Chinese literature in different geopolitical areas, from the 1840s to now. It reviews major accomplishments of Chinese literary scholarship published in Chinese and English and brings attention to previously neglected, important areas.
Offers the most thorough and concise coverage of modern Chinese literature to date, drawing attention to previously neglected areas such as late Qing, Sinophone, and ethnic minority literature
Several chapters explore literature in relation to Sinophone geopolitics, regional culture, urban culture, visual culture, print media, and new media
The introduction and two chapters furnish overviews of the institutional development of modern Chinese literature in Chinese and English scholarship since the mid-twentieth century
Contributions from leading literary scholars in mainland China and Hong Kong add their voices to international scholarship
See More
Notes on Contributors viii
Acknowledgments xv
1 General Introduction 1
Yingjin Zhang
Part I History and Geography 39
2 Literary Modernity in Perspective 41
Zhang Longxi
3 Late Qing Literature, 1890s–1910s 54
Hu Ying
4 War, Revolution, and Urban Transformations: Chinese Literature of the Republican Era, 1920s–1940s 67
Nicole Huang
5 Socialist Literature Driven by Radical Modernity, 1950–1980 81
Chen Xiaoming (translated by Qin Liyan)
6 Thirty Years of New Era Literature: From Elitization to De-Elitization 98
Tao Dongfeng (translated by Angie Chau)
7 Building a Modern Institution of Literature: The Case of Taiwan 116
Sung-sheng Yvonne Chang
8 Sinophone Literature 134
Ping-hui Liao
Part II Genres and Types 149
9 Modern Poetry in Chinese: Challenges and Contingencies 151
Michelle Yeh
10 Modern Chinese Theater Study and its Century-Long History 167
Xiaomei Chen
11 Literariness (Wen) and Character (Zhi): From Baihua to Yuluti and Dazhongyu 181
Qian Suoqiao
12 Fiction in Modern China: Modernity through Storytelling 195
Yiyan Wang
13 Modern China's Translated Literature 214
Zha Mingjian
14 Writing Chinese Feminism(s) 228
Amy Dooling
15 The World of Twentieth-Century Chinese Popular Fiction: From Shanghai Express to Rivers and Lakes of Knights-Errant 244
Yi Zheng
16 Ethnic Minority Literature 261
Mark Bender
Part III Cultures and Media 277
17 Use in Uselessness: How Western Aesthetics Made Chinese Literature More Political 279
Ban Wang
18 The Linguistic Turns and Literary Fields in Twentieth-Century China 295
Jianhua Chen
19 The Significance of the Northeastern Writers in Exile, 1931–1945 312
Haili Kong
20 Writing Cities 326
Weijie Song
21 Divided Unities of Modern Chinese Literature and Visual Culture: The Modern Girl, Woodcuts, and Contemporary Painter–Poets 343
Paul Manfredi
22 All the Literature That's Fit to Print: A Print Culture Perspective on Modern Chinese Literature 360
Nicolai Volland
23 The Proliferating Genre: Web-Based Time-Travel Fiction and the New Media in Contemporary China 379
Jin Feng
Part IV Issues and Debates 395
24 The Persistence of Form: Nation, Literary Movement, and the Fiction of Ng Kim Chew 397
Carlos Rojas
25 The Modern Girl in Modern Chinese Literature 411
Tze?]lan D. Sang
26 Body as Phenomenon: A Brief Survey of Secondary Literature of the Body in Modern Chinese Literature and Culture 424
Ari Larissa Heinrich
27 The Post-Maoist Politics of Memory 434
Yomi Braester
28 Writing Historical Traumas in the Everyday 452
Lingchei Letty Chen
29 A Brief Overview of Chinese-Language Scholarship on Modern Chinese Literature 465
Chen Sihe (translated by Alvin Ka Hin Wong)
30 Toward a Typology of Literary Modernity in China: A Survey of English Scholarship on Modern Chinese Literature 483
Yingjin Zhang
Bibliography 501
Glossary 503
Index 548
See More
Yingjin Zhang is Professor of Chinese Studies and Comparative Literature at University of California, San Diego, USA, and Visiting Chair Professor of Humanities at Shanghai Jiao Tong University, China. He is the author of, amongst others, Screening China (2002), Chinese National Cinema (2004), and Cinema, Space, and Polylocality in a Globalizing China (2010). He is co-author of Encyclopedia of Chinese Film (1998), and New Chinese-Language Documentaries (2015), and editor of A Companion to Chinese Cinema (Wiley-Blackwell, 2012).
See More
More in this series