Urban Design for an Urban Century: Shaping More Livable, Equitable, and Resilient Cities, 2nd Edition
ISBN: 978-1-118-45363-6
336 pages
May 2014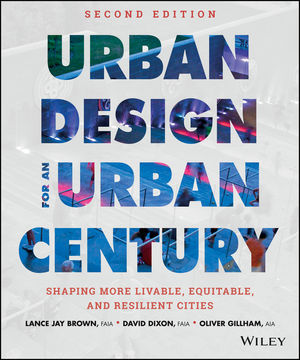 This book offers a comprehensive introduction to urban design, from a historical overview and basic principles to practical design concepts and strategies. It discusses the demographic, environmental, economic, and social issues that influence the decision-making and implementation processes of urban design. The Second Edition has been fully revised to include thorough coverage of sustainability issues and to integrate new case studies into the core concepts discussed.
See More
Acknowledgments vii
Introduction ix
Urban Design: A Social and Civic Art ix
Chapter 1 Roots of Western Urban Form: Centralization 1
First Cities 1
Rebirth of European Cities: "Organic" Cities of the Late Middle Ages 3
Reintroduction of Classical Learning: "Geometric" Cities of the Renaissance 5
The Emergence of Merchant Cities: Integrating Renaissance Ideas and the Marketplace 9
The Grid Reaches the New World 10
The Industrial Revolution 15
Chapter 2 Decentralization: The Rise and Decline of Industrial Cities 31
Proto-Urban Design: Rejecting a Classical Past to Shape an Industrial Future 31
Chapter 3 Recentralization: The Forces Shaping Twenty-First-Century Urbanism 69
New York Stock Exchange Financial District Streetscapes and Security (New York, New York) 71
District of Columbia Streetcar Land Use Study (Washington, D.C.) 75
Chicago Decarbonization Plan (Chicago) 79
Fayetteville 2030: Transit City Scenario (Fayetteville, Arkansas) 81
South Coast Rail Economic and Land Use Plan (Massachusetts) 88
Citygarden (St. Louis, Missouri) 90
UrbanRiver Visions (Massachusetts) 93
Campus Martius Park (Detroit, Michigan) 95
The Future of Pittsburgh Hillsides (Pittsburgh, Pennsylvania) 98
Emscher Landscape Park (Ruhr Valley, Germany) 108
SW Ecodistrict (Washington, D.C.) 111
Lloyd Crossing Sustainable Urban Design Plan (Portland, Oregon) 113
East Baltimore Comprehensive Physical Redevelopment Plan (Baltimore, Maryland) 120
Torre David Informal Settlement (Caracas, Venezuela) 124
Chapter 4 Recentralization: Twenty-First-Century Urbanism Takes Shape 131
Eastward Ho! (Southeast Florida) 134
Charlottesville Commercial Corridor Study (Charlottesville, Virginia) 136
Crystal City Vision Plan 2050 (Arlington, Virginia) 142
Sandy Springs City Center Master Plan (Sandy Springs, Georgia) 145
Portland Streetcar (Portland, Oregon) 159
Belmar (Lakewood, Colorado) 169
Bryant Park (New York, New York) 176
Parc André Citröen (Paris, France) 178
Barclays Center (Brooklyn, New York) 181
Discovery Green (Houston, Texas) 185
Cheonggyecheon Stream Daylighting (Seoul, South Korea) 197
LA Live (Los Angeles, California) 200
Marina Barrage (Singapore) 202
Masdar City (Abu Dhabi, United Arab Emirates) 204
HafenCity (Hamburg, Germany) 208
Fairmount Line Smart-Growth Corridor (Boston, Massachusetts) 214
Ellen Wilson Neighborhood Redevelopment (Washington, D.C.) 216
North Wharf Promenade/Jellicoe Street/Silo Park (Auckland, New Zealand) 219
Millennium Park (Chicago, Illinois) 223
The High Line (New York, New York) 225
Parco San Giuliano (Venice, Italy) 227
Swiss Government Plaza (Bern, Switzerland) 230
Tanner Springs Park (Portland, Oregon) 232
Railroad Park (Birmingham, Alabama) 234
Superkilen Park, Nørrebro (Copenhagen, Denmark) 237
Santa Monica Boulevard Master Plan (West Hollywood, California) 240
Broadway Boulevard (New York, New York) 243
POPOS: Privately Owned Public Open Spaces (San Francisco, California) 248
Chapter 5 Theories of Urbanism 255
Seaside Town Square and Beachfront Master Plan (Seaside, Florida) 259
Madrid Río (Madrid, Spain) 262
Chapter 6 Urban Design for an Urban Century: Principles, Strategies, and Process 271
Bridge Street Corridor Plan (Dublin, Ohio) 273
National 9/11 Memorial (New York, New York) 289
Afterword 299
Index 301
See More
Lance Jay Brown, FAIA, DPACSA, is the principal of Lance Jay Brown Architecture + Urban Design in NYC, Fellow of the Institute for Urban Design, and ACSA Distinguished Professor at the Spitzer School of Architecture, CCNY. He was elected 2014 President of the AIA New York Chapter, is co-founder of its Design for Risk and Reconstruction Committee, and a founding Board Member of the Consortium for Sustainable Urbanization. He contributed to and co-edited Beyond Zuccotti Park: Freedom of Assembly and the Occupation of Public Space (2012) and co-authored The Legacy Project: New Housing New York/Via Verde (2013). In 2007 he was awarded the AIA/ACSA Topaz Medallion for Excellence in Architectural Education. He has served as director of the School of Architecture at CCNY, director of the City College Architectural Center, and assistant director for programs at the National Endowment for the Arts.
David Dixon, FAIA, is an urban designer who lives and works in Boston. In 2003, as President of the Boston Society of Architects, he organized Myth and Reality, the First National Conference on Density to challenge widely-held negative associations about the concept of urban density. In 2008 he received the American Institute of Architects' Thomas Jefferson Medal for "a lifetime of... significant achievement in creating...livable neighborhoods, vibrant civic spaces, and vital downtowns". For more than 20 years he led Goody Clancy's planning and urban design practice, which earned the American Planning Association's 2013 Firm Award for Excellence in Planning. In 2014, David joined Stantec to initiate a broadly interdisciplinary practice to support communities in meeting the unprecedented opportunities and challenges of this rapidly evolving urban era.
The late Oliver Gillham, AIA, was an architect and city planner, as well as the founder of Gillham & Gander Associates. He was also the coauthor of The Limitless City: A Primer on the Urban Sprawl Debate.
See More