Career Anchors: The Changing Nature of Careers Participant Workbook, 4th Edition
ISBN: 978-1-118-45575-3
112 pages
May 2013, Pfeiffer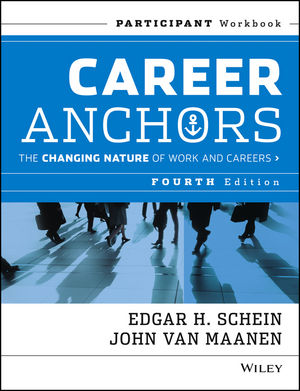 Career Anchors: Participant Workbook, Fourth Edition
Using the Career Anchors Participant Workbook as your guide you will be able to explore and better understand your workplace skills and competencies, career motives and values.
With this program, you will gain new insight into your career values and how they relate to your past and future choices. This easy-to-use workbook includes information about career development and a more complete description of the eight career anchors categories. This new edition features updated or new information that addresses issues such as
The rapidly changing world of business including more information on globalization, heightened competition, new technologies, greater organizational instability and uncertainty and shifting societal values, all of which influence career trajectories and career anchors
A more detailed description and elaboration of the eight anchors
A Role Mapping Process that helps to consider the various external demands and pressures with suggested action steps.
A Work Career and Family/Life Priority Grid that includes suggestions for how the work, family, and personal patterns identified can interact (for better or worse) with each of the eight career anchors
A new "looking ahead" section of the workbook that begins with a comprehensive look at how the world of work is changing and what these changes may mean for each of the career anchors
Developmental activities that participants can use as next steps in their career development
Once you have completed the Career Anchors Self-Assessment, this workbook will be your next-step resource for analyzing and understanding your particular career anchor.
See More
Introduction 1
Career Development 3
Th e "Internal Career" and Career Anchors 3
External Career Stages and Career Movement 4
Development of the Career Anchor in the Internal Career 7
Identifying Career Anchors Through Career History Analysis 11
The Eight Career Anchor Categories 19
Technical/Functional Competence 20
General Managerial Competence 24
Autonomy/Independence 30
Security/Stability 32
Entrepreneurial Creativity 34
Sense of Service/Dedication to a Cause 37
Pure Challenge 39
Lifestyle 40
Review of Ratings and Questionnaire Scores 45
Common Questions 47
Are Th ere Other Career Anchors? 47
Does the Career Anchor Concept Travel? 48
Can a Person Have More Th an One Anchor? 50
Do Anchors Change? 51
Moving Ahead: Reconciling Your Anchor with the
Demands of Work, Family, and Self 55
Th e Role Map: Analyzing Your Present Situation 55
Th e Work Career and Family/Life Priority Grid:
Analyzing Your Present Situation 64
Looking Ahead 71
Globalization and Restructuring 71
Information Technology and Expertise 73
Support and Service Functions 75
Uncertainty, Anxiety, and Teamwork 76
New Organizational Forms 78
Interdependence and Collaboration 80
Work, Self, and Family 84
Implications for Your Career Development 89
Assessment of Future Requirements 90
Next Steps 94
References and Additional Reading 99
About the Authors 103
See More
Edgar H. Schein is Sloan Fellows Professor of Management Emeritus at the Sloan School of Management at the Massachusetts Institute of Technology. He is the author of numerous books, including Career Dynamics, Process Consultation Revisited, Organizational Culture and Leadership, and The Corporate Culture Survival Guide.
John Van Maanen is the Erwin Schell Professor at the Sloan School of Management at MIT. He has been a Visiting Professor at Yale University, University of Surrey, and INSEAD in France.
See More