The Human Equity Advantage: Beyond Diversity to Talent Optimization
ISBN: 978-1-118-45840-2
328 pages
June 2013, Jossey-Bass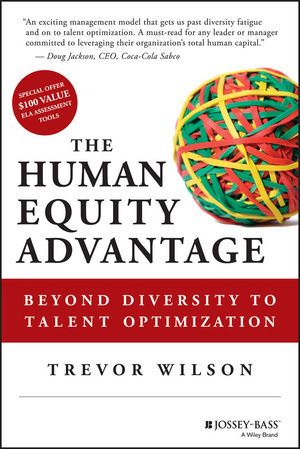 A fresh approach to the old problem of "diversity fatigue"
Trevor Wilson, global diversity strategist and visionary leader, presents a fresh, new management model that goes beyond the traditional diversity debate towards inclusion and building human capital. Featuring case studies and practical diagnostic tools and assessments, this book will benefit anyone who is interested in improving their business by building on the unique talents of employees' innate strengths, unique abilities, personality, attitude, life experience and virtues. The agent of this change, the driver of the process, is the equitable leader.
This important book outlines 8 core competencies that will guide leaders to create equitable and inclusive work environments where employees are valued because of, not in spite of, their differences and each person can be recognized and developed to strive for their highest potential.
Includes a new paradigm for diversity initiatives and finds new solutions
Reveals the core competencies that help leaders create an equitable and inclusive workplace
Shows how companies can improve hiring and retention, reduce turnover, increase productivity, improve teamwork, and ultimately increase the bottom line
The Human Equity Advantage gives you the tools to tap into the unique talents and strengths of each employee.
See More
Foreword by Lamarr Lark ix
Foreword by Gerry Bouey xi
PART ONE: BEYOND DIVERSITY TO HUMAN EQUITY: THE REQUIRED SHIFT 1
Chapter One: Diversity Fatigue and the Unfulfilled Promise of Diversity 3
Chapter Two: The Evolution of the Equity Continuum 29
Case Study: Mount Sinai Hospital's Workforce Census 51
Chapter Three: The Essential Role of Leaders and Managers 61
Case Study: Ontario Public Service Diversity Mentoring Partnership Program 75
PART TWO: IMPLEMENTING HUMAN EQUITY 85
Chapter Four: Human Capital and the Differentiation of Talent 87
Chapter Five: Talent Differentiation in Action 105
Case Study: Dynamic Industrial Company Practices Talent Differentiation 106
Chapter Six: The SHAPE of Talent 121
Chapter Seven: The Eight Core Competencies of the Equitable Leader 143
Case Study: The Equitable Leader Assessment at Deloitte 167
Chapter Eight: Ernst & Young: A Journey Toward Human Equity Leadership 173
PART THREE: MEASURING HUMAN EQUITY 191
Chapter Nine: Arriving at the Human Equity Assessment Tool 193
Chapter Ten: The Equitable Leader Assessment 211
Case Study: Ontario Ministry of Labour Equitable Leadership Assessment 233
Conclusion: The Why of Human Equity 247
Afterword: My Why of Human Equity 253
Appendix 263
Glossary 297
Special Offer 301
Index 303
See More
Trevor Wilson is the creator of the human equity management model. He is the global diversity, inclusion and human equity strategist and CEO of TWI Inc. TWI's clients include some of the most progressive global employers in the world, including Coca-Cola, Ernst & Young, BNP Paribas, and Home Depot. TWI's trademarked human equity approach was instrumental in catapulting Coca-Cola's South Africa division to the top performing division worldwide.
See More