E-book
Raw Food For Dummies
ISBN: 978-1-118-46112-9
384 pages
November 2012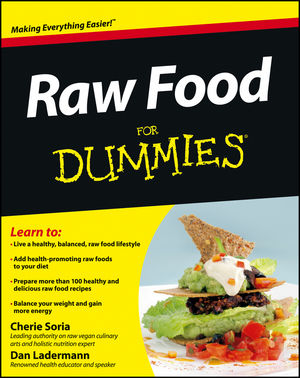 The easy way to transition to the raw food lifestyle
Celebrities like Demi Moore, Sting, Madonna, and Woody Harrelson as well as experts in diet and nutrition have drawn attention to the newest trend in eating: raw foods. As the demand for raw foods increases, so does the demand for informative and supportive facts about this way of life. Raw Food For Dummies shares reasons for incorporating raw food into your diet and life, tips on how to do it, and includes nearly 100 recipes.
Whether you're interested in incorporating raw foods into an existing meal plan, or transitioning to a raw foods-only diet, Raw Food For Dummies will help. Main areas of coverage include the benefits of eating raw foods, tips for avoiding undernourishment and hunger, information on transitioning to the raw food lifestyle (including where to buy and how to store raw foods), along with coverage of the popular methods of preparing meals, including sprouting, dehydrating, juicing, and greening.
Features nearly 100 recipes covering breakfast, lunch, dinner, appetizers, and snacks
Includes advice on transitioning to the raw food lifestyle
Written by a veteran vegan chef and culinary arts teacher
Raw Food For Dummies is for anyone interested in incorporating raw foods into an existing meal plan, as well as people interested in transitioning to a raw foods-only diet.
See More
Introduction 1
Part I: Exploring the Basics of Raw Food 7
Chapter 1: Raw Food 101 9
Chapter 2: Checking Out Raw-some Foods 23
Chapter 3: Getting Essential Nutrients 33
Part II: Embarking on Your Raw Journey 49
Chapter 4: Going Raw 51
Chapter 5: Gear and Gadgets: Setting Up Your Raw Food Kitchen 67
Chapter 6: Buying Organic Essentials 83
Chapter 7: Discovering Raw Food Preparation Techniques 97
Part III: Enjoying Raw and Revitalizing Meals: The Recipes 121
Chapter 8: Getting Started — No Experience Required 123
Chapter 9: The Supporting Cast: Tasty Condiments, Sauces, and More 141
Chapter 10: Mixing It Up: Smoothies and Elixirs 161
Chapter 11: Nourishing Breakfasts 181
Chapter 12: Appealing Appetizers 195
Chapter 13: Sensational Soups and Salads 213
Chapter 14: Sumptuous Side Dishes 231
Chapter 15: Gourmet Raw Entrees 245
Chapter 16: Snacks and Nutritious Nibbles 263
Chapter 17: Sweet Endings 273
Part IV: Taking Your Raw Lifestyle to the Next Level 289
Chapter 18: Planning Menus in the Raw 291
Chapter 19: Eating Raw on the Go 307
Chapter 20: Gathering with a Raw Community 319
Part V: The Part of Tens 327
Chapter 21: Ten Reasons to Go Raw 329
Chapter 22: Ten Foods Best Eaten Raw 335
Appendix: Metric Conversion Guide 341
Index 345
See More
Cherie Soria has been teaching the art of gourmet raw foods to individuals, chefs, and instructors for nearly 20 years.
Dan Ladermann is a Certified Hippocrates Health Educator and raw vegan nutrition instructor. Together, Cherie and Dan own and operate Living Light International.
See More