E-book
Nanotechnology and Functional Foods: Effective Delivery of Bioactive Ingredients
ISBN: 978-1-118-46217-1
408 pages
April 2015, Wiley-Blackwell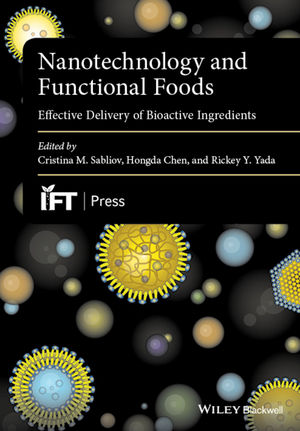 The continued advancement in the sciences of functional foods and nutraceuticals has clearly established a strong correlation between consumption of bioactives and improved human health and performance. However, the efficacy and bioavailability of these bioactive ingredients (e.g., omega-3 oils, carotenoid antioxidants, vitamins, and probiotic bacteria) in foods often remains a challenge, due to their instability in food products and gastrointestinal tract, as well as their limited bioavailability. In some cases, these bioactive ingredients may impart an undesirable organoleptic characteristic to the final product, which hinders acceptance by consumers. In addressing these challenges, development of effective delivery systems is critical to meet the consumer needs for effective bioactives. The scientific knowledge behind developing effective delivery of bioactive components into modern and wide-ranging food products will be essential to reap their health-promoting benefits and to support the sustained growth of the functional foods market. Nanotechnology and Functional Foods: Effective Delivery of Bioactive Ingredients explores the current data on all aspects of nanoscale packing, carrying and delivery mechanisms of bioactives ingredients to functional foods. The book presents various delivery systems (including nano-emulsions, solid lipid nanoparticles, and polymeric nano-particles), their properties and interactions with other food components, and fate in the human body. Later chapters emphasize the importance of consumers attitude towards nano-delivery for the success of the technology and investigate the challenges faced by regulatory agencies to control risks and harmonize approaches worldwide. The wide applicability of bioactive delivery systems with the purpose of improving food quality, food safety and human health will make this book a worthy reference for a diverse range of readers in industry, research and academia.
See More
Contributors ix
1 Introduction 1
Cristina M. Sabliov, Hongda Chen and Rickey Yada
2 Nutrient absorption in the human gastrointestinal tract 3
Emily S. Mohn and Elizabeth J. Johnson
3 Cellular fate of delivery systems and entrapped bioactives 35
Cristina M. Sabliov, Dorel Moldovan, Brian Novak, Toni Borel, and Meocha Whaley
4 Interfacial science and the creation of nanoparticles 52
Stephanie R. Dungan
5 Controlling properties of micro?] to nanosized dispersions using emulsification devices 69
Zheng Wang, Marcos A. Neves, Isao Kobayashi, and Mitsutoshi Nakajima
6 Delivery systems for food applications: an overview of preparation methods and encapsulation, release, and dispersion properties 91
Qixin Zhong, Huaiqiong Chen, Yue Zhang, Kang Pan, and Wan Wang
7 Characterization of nanoscale delivery systems 112
Rohan V. Tikekar
8 Impact of delivery systems on the chemical stability of bioactive lipids 130
Ketinun Kittipongpittaya, Lorena Salcedo, David Julian McClements, and Eric Andrew Decker
9 Encapsulation strategies to stabilize a natural folate, L-5-methyltetrahydrofolic acid, for food fortification practices 142
David D. Kitts and Yazheng Liu
10 The application of nanoencapsulation to enhance the bioavailability and distribution of polyphenols 158
Alison Kamil, C?]Y. Oliver Chen, and Jeffrey B. Blumberg
11 Properties and applications of multilayer and nanoscale emulsions 175
Moumita Ray, Renuka Gupta, and Dérick Rousseau
12 Liposome as efficient system for intracellular delivery of bioactive molecules 191
Mihaela Trif and Oana Craciunescu
13 Solid lipid nanoparticles and applications 214
Maria Fernanda San Martin?]Gonzalez
14 Protein–polysaccharide complexes for effective delivery of bioactive functional food ingredients 224
Yunqi Li and Qingrong Huang
15 Bicontinuous delivery systems 247
Graciela Padua
16 Self?]assembly of amylose, protein, and lipid as a nanoparticle carrier of hydrophobic small molecules 263
Genyi Zhang, Deepak Bhopatkar, Bruce R. Hamaker, and Osvaldo H. Campanella
17 Polymeric nanoparticles for food applications 272
Cristina M. Sabliov and Carlos E. Astete
18 Encapsulation of bioactive compounds using electrospinning and electrospraying technologies 297
Loong?]Tak Lim
19 Risks and ethics in the context of food nanotechnology and the delivery of bioactive ingredients 318
Paul B. Thompson
20 Consumer perceptions of nanomaterials in functional foods 331
William K. Hallman and Mary L. Nucci
21 Safety assessment of nano?] and microscale delivery vehicles for bioactive ingredients 348
Qasim Chaudhry and Laurence Castle
22 Evidence?]based regulation of food nanotechnologies: a perspective from the European Union and United States 358
Diana Bowman, Qasim Chaudhry and Anna Gergely
Index 375
See More
Dr Cristina M. Sabliov is Professor in the Biological and Agricultural Engineering Department of Louisiana State University and LSU AgCenter, Baton Rouge, USA.
Dr Hongda Chen is the National Program Leader in Bioprocessing Engineering and Nanotechnology at USDA – National Institute of Food and Agriculture, Washington DC, USA.
Dr Rickey Y. Yada is Dean of the Faculty of Land and Food Systems, and Professor of Food Science at the University of British Columbia in Vancouver, British Columbia, Canada.
See More
More in this series