The Little Book of Real Estate Investing in Canada
ISBN: 978-1-118-46410-6
256 pages
January 2013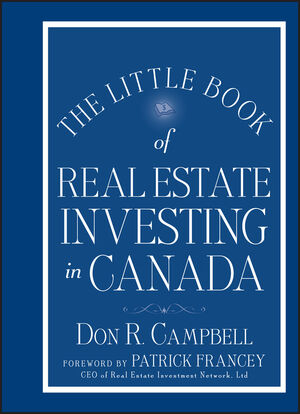 Canada's bestselling author on real estate draws back the curtain on real estate investing
Investing in real estate has often been viewed as the poor second cousin to the stock and bond markets. The misperception that investing in real estate is somehow difficult has cost Canadians the opportunity to increase both the quality of and income from their investment portfolio. To help provide a new perspective to Canadian investors, Canada's bestselling real estate author speaks about his relationship with real estate as the asset that has consistently delivered value for himself and the Real Estate Investment Network community across the country.
Author Don R. Campbell is Canada's most recognizable face in media on matters to do with real estate
Offers readers a unique glimpse into Don R. Campbell's views on real estate as an asset class, the opportunities and challenges, and the essential characteristics of a successful real estate investor
People want to learn from the best. Investors have no better role model than Don R. Campbell—either to be introduced to the world of real estate or to take away lessons that will embolden success.
See More
Foreword vii
Acknowledgements xiii
Introduction xvii
Chapter One Why Invest in Real Estate? 1
Chapter Two My Early Years as an Investor 45
Chapter Three Design a Portfolio to Weather the Inevitable Storms 71
Chapter Four Building the Team 103
Chapter Five The Investor Mentality 131
Chapter Six Riding the Cycle to Long-Term Sustainable Wealth 157
Chapter Seven Why Do You Really and Truly Want to Invest in Real Estate? 185
Chapter Eight Is Real Estate Investing Part of Your Journey? 201
About the Author 223
See More
DON R. CAMPBELL (Vancouver) is a Founding Partner and Senior Analyst of Real Estate Investment Network Ltd. He is a leader in providing Canada's most current real estate investment education programs and economic research reports and analysis, and is the author of the best-selling Real Estate Investing in Canada 2.0 and co-author of 97 Tips for Canadian Real Estate Investors; Real Estate Joint Ventures; and Secrets of the Canadian Real Estate Cycle.
See More