Software
Learning Search Engine Optimization: A Video Introduction
ISBN: 978-1-118-46603-2
February 2013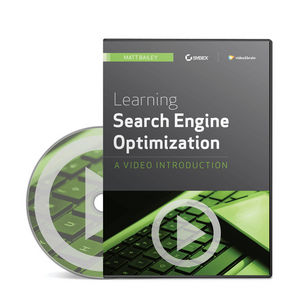 Eight hours of video teaches you essential SEO techniques
If you're a marketer, advertiser, or brand manager, you know the urgent need in today's marketplace to master and deploy top-notch search engine optimization strategies. Learning Search Engine Optimization: A Video Introduction offers a fast, visual way for you to get up speed on SEO. This video training software features eight hours of instruction covering such topics as how search engines work, keyword research, tags, content and on-page optimization, tracking and reporting results, and more. Watch at your own pace and quickly learn the essentials of this crucial marketing weapon.
The videos are viewable on laptops and PCs, smartphones, and tablets. This unique training product includes hands-on exercises, custom bookmarking, and an intuitive interface for easy navigation and viewing. And, as an added bonus you get access to a streaming version of the videos that you can view from any computer with internet access.
Shows you how to master and deploy the latest SEO tactics and techniques
Features eight hours of step-by-step instruction, hands-on exercises, and helpful examples
Covers how Google and other search engines work, how to create tags, the latest in keyword research, the tricks of on-page and content optimization, and more
Allows you to custom bookmark key areas to return to later and provides an intuitive interface to make it easy to navigate and view
If you need value-priced, short-course training on SEO, you'll want Learning Search Engine Optimization: A Video Introduction.
System Requirements:
Display resolution of 1024x768 or higher
Pentium 4, 2.6GHz or higher, or Apple Mac G5
512MB RAM
See More
Search engine optimization and internet marketing expert Matt Bailey is the founder and president of SiteLogic Marketing and has led in-house training and consulting for Google, Proctor & Gamble, Johnson & Johnson, and many other organizations. Matt is a frequent speaker at industry conferences and provides regular marketing news and analysis at www.sitelogic.com/blog. video2brain has been helping people upgrade their skills with world-class video training for over 10 years.
See More
Learn more about