The Strategic Management of Health Care Organizations, 7th Edition
ISBN: 978-1-118-46646-9
476 pages
March 2013, Jossey-Bass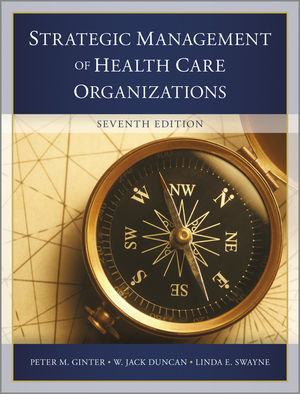 A structured strategic management approach is what's needed to tackle the revolutionary change the health care system has been experiencing. Today, health care organizations have almost universally embraced the strategic perspective first developed in the business sector and now have developed strategic management processes that are uniquely their own. Health care leaders have found that strategic thinking, planning, and managing strategic momentum are essential for coping with the dynamics of the health care industry. Strategic Management has become the single clearest manifestation of effective leadership of health care organizations.
The 7th edition of this leading text has been revised and updated to include a greater focus on the global analysis of industry and competition; and analysis of the internal environment.
It provides guidance on strategic planning, analysis of the health services environment (both internal and external) and lessons on implementation. It also looks at organizational capability, sustainability, CSR and the sources of organizational inertia and competency traps.
See More
Preface vii
Chapter 1 The Nature of Strategic Management 1
Chapter 2 Understanding and Analyzing the General Environment and the Health Care Environment 33
Chapter 3 Service Area Competitor Analysis 75
Chapter 4 Internal Environmental Analysis and Competitive Advantage 127
Chapter 5 Directional Strategies 165
Chapter 6 Developing Strategic Alternatives 205
Chapter 7 Evaluation of Alternatives and Strategic Choice 255
Chapter 8 Value-Adding Service Delivery Strategies 307
Chapter 9 Value-Adding Support Strategies 345
Chapter 10 Communicating the Strategy and Developing Action Plans 383
Appendix A Analyzing Strategic Health Care Cases 411
Appendix B Health Care Organization Accounting, Finance, and Performance Analysis 423
Appendix C Health Care Acronyms 443
Index 451
See More
Peter M. Ginter is Professor of Health Care Organization and Policy in the School of Public Health and Senior Scientist in the Lister Hill Center for Health Policy at the University of Alabama at Birmingham.
W. Jack Duncan is Professor and University Scholar Emeritus in Management in the Graduate School of Management and Professor of Health Care Organization and Policy and Senior Scholar in the Lister Hill Center for Health Policy at the School of Public Health at the University of Alabama at Birmingham.
Linda E. Swayne is Professor, Department of Marketing in the Belk College of Business Administration and Co-Director of the Physicians' Management Institute at the University of North Carolina at Charlotte.
See More
Instructors Resources
Request a print evaluation copy
Contact us

See More
See Less
Learn more about