Textbook
Essentials of Cognitive Neuroscience
ISBN: 978-1-118-46806-7
608 pages
February 2015, ©2014, Wiley-Blackwell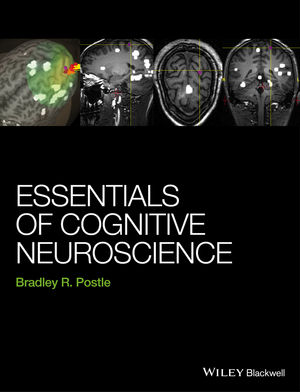 Essentials of Cognitive Neuroscience
guides undergraduate and early-stage graduate students with no previous neuroscientific background through the fundamental principles and themes in a concise, organized, and engaging manner.
Provides students with the foundation to understand primary literature, recognize current controversies in the field, and engage in discussions on cognitive neuroscience and its future
Introduces important experimental methods and techniques integrated throughout the text
Assists student comprehension through four-color images and thorough pedagogical resources throughout the text
Accompanied by a robust website with multiple choice questions, experiment vidoes, fMRI data, web links and video narratives from a global group of leading scientists for students. For Instructors there are sample syllabi and exam questions
See More
Preface xvi
Acknowledgments xix
Methodology Boxes xxi
Walkthrough of Pedagogical Features xxii
Companion Website xxiv
SECTION I: THE NEUROBIOLOGY OF THINKING 1
1 Introduction and History 4
2 The Brain 22
SECTION II: SENSATION, PERCEPTION, ATTENTION, AND ACTION 51
3 Sensation and Perception of Visual Signals 54
4 Audition and Somatosensation 85
5 The Visual System 120
6 Spatial Cognition and Attention 153
7 Skeletomotor Control 196
8 Oculomotor Control and the Control of Attention 229
SECTION III: MENTAL REPRESENTATION 259
9 Visual Object Recognition and Knowledge 262
10 Neural Bases of Memory 286
11 Declarative Long?]Term Memory 312
12 Semantic Long?]Term Memory 336
13 Short?]Term and Working Memory 360
SECTION IV: HIGH-LEVEL COGNITION 395
14 Cognitive Control 397
15 Decision Making 422
16 Social Behavior 449
17 Emotion 476
18 Language 502
19 Consciousness 531
Glossary 562
Index 571
See More
Bradley R. Postle is Professor of Psychology and Psychiatry at the University of Wisconsin-Madison. He has taught cognitive neuroscience to undergraduates for many years and published over 75 scientific journal articles and chapters on the cognitive neuroscience of memory. He is Associate Editor of the Journal of Cognitive Neuroscience, and has previously served in this capacity at the journals NeuroImage and Cortex.
See More
Postle's Essentials of Cognitive Neuroscience invites the reader to join in the scientific exploration of mind and brain.  The field is presented, not just as a collection of facts, but as an approach to answering enduring questions about how experience, thought, and behavior arise from activity in the brain.  The student becomes, not just a bystander, but a participant in the process of scientific discovery.—Jay McClelland, Director, Center for Mind Brain and Computation, Stanford University
This highly readable textbook provides a concise, easily accessible and up-to-date introduction to the field of cognitive neuroscience.—John-Dylan Haynes, Bernstein Center for Comptutational Neuroscience, Charité Berlin, Germany
Cognitive neuroscience is an exceptionally exciting and rapidly advancing field in which progress is made through research diverse approaches in animals as well as humans.  Brad Postle articulates the essential knowledge of this field in a masterful synthesis that will guide a new generation of students in appreciating that progress in understanding how the brain generates 'thought'.—Howard Eichenbaum, Center for Memory and Brain, Boston University
This is a brilliantly written and beautifully illustrated book charting the breadth and depth of cognitive neuroscience from its historical roots to the hottest controversies in the field today. If you think you know everything about cognitive neuroscience then this book will show you that you're wrong. And if you are just getting going, then this is the perfect place to start.—Adrian M. Owen, The University of Western Ontario, Canada
See More
Instructors Resources
Request a print evaluation copy
Contact us

Contact your Wiley Representative
Find Your Rep

See More
See Less