A Companion to Nordic Cinema
ISBN: 978-1-118-47525-6
632 pages
May 2016, Wiley-Blackwell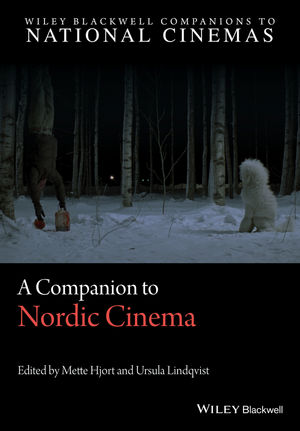 A Companion to Nordic Cinema
presents a collection of original essays that explore one of the world's oldest regional cinemas from its origins to the present day.
Offers a comprehensive, transnational and regional account of Nordic cinema from its origins to the present day
Features original contributions from more than two dozen international film scholars based in the Nordic countries, the United States, Canada, Scotland, and Hong Kong
Covers a wide range of topics on the distinctive evolution of Nordic cinema including the silent Golden Age, Nordic film policy models and their influence, audiences and cinephilia, Nordic film training, and indigenous Sámi cinema.
Considers Nordic cinema's engagement with global audiences through coverage of such topics as Dogme 95, the avant-garde filmmaking movement begun by Danish directors Lars von Trier and Thomas Vinterberg, and the global marketing and distribution of Nordic horror and Nordic noir
Offers fresh investigations of the work of global auteurs such as Carl Th. Dreyer, Ingmar Bergman, Lars von Trier, Aki Kaurismäki, and Roy Andersson.
Includes essays on Danish and Swedish television dramas, Finland's eco-documentary film production, the emerging tradition of Icelandic cinema, the changing dynamics of Scandinavian porn, and many more
See More
Notes on Contributors viii
Acknowledgments xii
Introduction: Nordic Cinema: Breaking New Waves since the Dawn of Film 1
Mette Hjort and Ursula Lindqvist
Part I States of Cinema: Nordic Film Policy 13
Introduction 15
Mette Hjort and Ursula Lindqvist
1 Regional and Global Dimensions of Danish Film Culture and Film Policy 19
Ib Bondebjerg
2 Developing a Bhutanese Film Sector in the Intersection between Gross National Happiness and Danish Guidance 41
Nis Grøn
3 Cinema in the Welfare State: Notes on Public Support, Regional Film Funds, and Swedish Film Policy 60
Olof Hedling
4 "Education, Enlightenment, and General Propaganda": Dansk Kulturfilm and Carl Th. Dreyer's Short Films 78
C. Claire Thomson
Part II Making Filmmakers: Models and Values 99
Introduction 101
Mette Hjort and Ursula Lindqvist
5 How to Train a Director—Film Schools in the Nordic Countries 105
Astrid Söderbergh Widding
6 Non -Fiction Film Culture in Sweden circa 1920–1960: Pragmatic Governance and Consensual Solidarity in a Welfare State 125
Mats Jönsson
7 Crossing Borders: Going Transnational with "Danish" Film Training, Capacity Building, and Talent Development 148
Mette Hjort
Part III Reeling 'Em In: Spectatorship and Cinephilia 173
Introduction 175
Ursula Lindqvist and Mette Hjort
8 The Rise and Fall of Norwegian Municipal Cinemas 179
Ove Solum
9 The "Capital of Scandinavia?" Imaginary Cityscapes and the Art of Creating an Appetite for Nordic Cinematic Spaces 199
Maaret Koskinen
10 Jörn Donner and the Emergence of a New Film Culture in Postwar Scandinavia 224
Kimmo Laine
11 The Formation of a Cinema Audience in Sweden, 1915–1929 242
Tommy Gustafsson
Part IV Reinventing the Reel: Transitions and Triumphs 265
Introduction 267
Ursula Lindqvist and Mette Hjort
12 Searching for Art's Promised Land: Nordic Silent Cinema and the Swedish Example 271
Casper Tybjerg
13 Aki Kaurismäki—From Punk to Social Democracy 291
Andrew Nestingen
14 Swedish Cinema of the 1940s, a New Wave 313
Fredrik Gustafsson
15 Between Art and Genre: New Nordic Horror Cinema 332
Gunnar Iversen
16 A Tradition of Torturing Women 351
Linda Haverty Rugg
Part V Connecting Points: Global Intersections 371
Introduction 373
Mette Hjort and Ursula Lindqvist
17 Memories of Cultural Dismemberment: Nils Gaup, Mons Somby, and the Re ]Membering of Sámi History 377
Wendy Gay Pearson
18 The Scandinavian Colonies of Silent ]Era Hollywood 396
Arne Lunde
19 Films into Uniform: Dogme 95 and the Last New Wave 417
Scott MacKenzie
20 Nordic Remakes in Hollywood: Reconfiguring Originals and Copies 436
Anna Westerståhl Stenport
21 The Global Distribution of Swedish Silent Film 457
Laura Horak
Part VI The Eye of Industry: Practitioner's Agency 485
Introduction 487
Ursula Lindqvist and Mette Hjort
22 The Writing of Television Drama: Issues of Creative Collaboration and Authorship in Danish Writers' Rooms 491
Eva Novrup Redvall
23 Universal Aspirations and Ecocosmopolitan Rhetoric: The Finnish Ecodocumentary 510
Pietari Kääpä
24 The Emergence of a Tradition in Icelandic Cinema: From Children of Nature to Volcano 529
Björn Nordfjörd
25 The Art of Not Telling Stories in Nordic Fiction Films 547
Ursula Lindqvist
26 The Death of Porn? An Autopsy of "Scandinavian Sin" in the Twenty ]first Century 566
Mariah Larsson
Appendix 589
Index 591
See More
Mette Hjort is Professor of Film Studies at the University of Copenhagen, Affiliate Professor of Visual Studies at Lingnan University in Hong Kong, China, and Affiliate Professor of Scandinavian Studies at the University of Washington, Seattle. Her publications include The Strategy of Letters, Small Nation, Global Cinema, Lone Scherfig's 'Italian for Beginners', and a series of interview books: The Danish Directors (with Ib Bondebjerg, 2001), The Danish Directors 2 (with Eva Jørholt and Eva Novrup Redvall, 2010), and The Danish Directors 3 (with Ib Bondebjerg and Eva Novrup Redvall, 2014).
Ursula Lindqvist is Assistant Professor of Scandinavian Studies and Film and Media Studies at Gustavus Adolphus College in St. Peter, Minnesota, USA. She is the author of Roy Andersson's Songs from the Second Floor: Contemplating the Art of Existence, and co-editor, with Jenny Björklund, of New Dimensions of Diversity in Nordic Culture and Society. Her articles have appeared in PMLA, Modernism/Modernity, Space and Culture: International Journal of Social Spaces, African and Black Diaspora, and a special issue of Scandinavian-Canadian Studies devoted to Nordic cinema.
See More
More in this series