E-book
Reading Without Limits: Teaching Strategies to Build Independent Reading for Life
ISBN: 978-1-118-48375-6
416 pages
January 2013, Jossey-Bass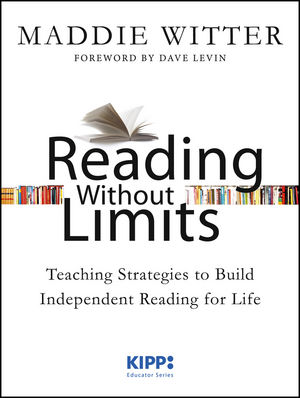 Imagine a classroom where all students are engaged in highly rigorous and fun learning every single day. That classroom can be yours starting tomorrow.

You don't have to be a reading specialist to pick up this book. Anyone who wants to dramatically improve reading achievement will find helpful suggestions. You might be a third grade teacher whose students have mastered decoding, and you are ready to build their comprehension. Or you might be a high school science teacher whose students aren't yet reading on level with deep critical thinking. This book is for you. It doesn't matter whether you are a public, charter, private, or alternative education teacher: the Reading Without Limits program works in each one.
Along with hundreds of ready-to-use teaching strategies, Reading Without Limits comes with a supplemental website where teachers can download even more resources for free!
Reading Without Limits is the first book offered in the KIPP Educator Series. KIPP, or the Knowledge is Power Program, began in 1994. As of Fall 2012, there are 125 KIPP schools in 20 states and the District of Columbia serving nearly 40,000 students climbing the mountain to and through college.
See More
Foreword by Dave Levin ix
Preface: Getting the Most out of This Book xiii
Acknowledgments xxi
About the Author xxiii
Introduction: What Is Reading Without Limits? 1
PART 1 LAUNCHING LIFELONG READERS
1 Finding Students' Reading Levels 25
PART 2 STEPS TO CREATING LIFELONG READERS
2 Teaching Students to Understand What They Read 49
3 Choice Reading to Encourage a Ton of Reading 79
4 Shared Reading to Teach, Reinforce, and Challenge 116
5 Guided Reading to Move Students Along Their Continuum 145
PART 3 PUTTING THE POWER OF CHOICE, SHARED, AND GUIDED READING TO WORK IN YOUR CLASSROOM OR SCHOOL
6 Make It Visible 171
7 Muscle Memory Routines 185
8 What to Do When Choice, Shared, or Guided Reading Isn't Working 209
PART 4 STEPS TO ENHANCE LIFELONG READERS
9 Reading Conferences, Our Aha Moments 225
10 Teaching Vocabulary 248
11 Class Discussion 270
12 Standardized Tests 289
13 Testing 1, 2, 3 . . . Testing 306
PART 5 PUTTING IT ALL TOGETHER
14 Planning a Lesson 329
15 Building the Reading Without Limits Program 344
Appendix A List of Children's and Young Adult Texts Referenced and Recommended 357
References 362
Notes 370
Index 380
See More
Maddie Witter is a founding teacher of KIPP Infinity Charter School, one of the top-performing middle schools in New York City. At KIPP Infinity, Maddie taught literacy, and was the school's founding director of instruction where she supervised teacher development and curriculum for the reading, writing, content, and nonfiction studies programs.
See More