E-book
The Cycle of the Gift: Family Wealth and Wisdom
ISBN: 978-1-118-48837-9
192 pages
October 2012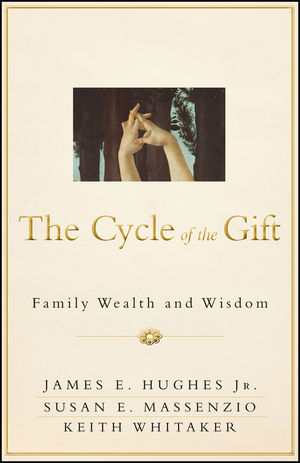 A comprehensive guide to giving well to family members
Giving is at the core of family life--and with current law allowing up to $5,120,000 in tax-free gifts, at least through December 2012, the ultra-affluent are faced with the task of giving at perhaps largest scale in history. Beyond the tax saving and wealth management implications, giving to family members opens up a slew of thorny questions, the biggest of which is, "How do I prepare recipients of such large gifts?" With that question and others in mind, Hughes, Massenzio, and Whitaker have written The Cycle of the Gift in three main parts: "The Who of Giving," "The How of Giving," and "The What and Why of Giving." The first part focuses on the people most deeply involved in family giving, especially the recipients and givers (parents, grandparents, spouses, trustees). The second part, "The How of Giving," addresses the delicate balance of givers who want to maintain some level of control and recipients who want some level of freedom in accepting and growing their gifts. The final part, "The What and Why of Giving" describes various types of gifts, from money to business interests to values and rituals. The authors also introduce their "family bank" concept as a model that combines loans, trusts, and outright gifts. It embodies a framework and set of practices for long-term family growth. Even families without great wealth--or those who have already made large gifts to their children and grandchilren--can benefit from the human wisdom and practical advice found in The Cycle of the Gift.
See More
Preface xv
Acknowledgments xix
Introduction xxv
Chapter 1 The Elephant in the Room 1
Grandparents' Checks 2
When Giving Becomes an Opportunity 4
Chapter 2 The Spirit of the Gift 7
Where the Spirit Leads 11
The Who of Giving
Chapter 3 Becoming a Wise Giver 17
Know Thyself 18
How Much? 21
Guilt and Remorse 24
Nothing Too Much 26
Chapter 4 Receiving Wisely 29
A Bad Investment? 30
The Psychological Stages of Giving 32
Giving and the Work Ethic 36
Not Yet 39
Meteors and Resilience 41
Investing in Recipients 44
Chapter 5 Spouses 47
Learning from Yourselves and Each Other 47
Three-Step Process 48
Blended Families 50
Prenuptial Discussions 51
Fiscal Unequals 54
Chapter 6 Grandparents 57
Grandparents' Great Opportunity 57
Involving Parents 58
Grandparents and Philanthropy 61
Chapter 7 Trustees 67
The Choice of Trustee 67
The Type of Trustee 69
The Relationship between Beneficiary and Trustee 69
A Regenerative Role 74
Chapter 8 Elders 77
Intergenerational Dynamics 78
Growing Elders 79
The Work of Elders 81
The How of Giving
Chapter 9 Control versus Freedom 87
The Myth of the Free Gift 87
Cui Bono? 88
The Giving of Accounts 90
Letting Be 92
Chapter 10 Fair versus Equal, Separate versus Together 97
The Balancing Act 98
Pot Shots 100
Flourishing 102
Promises 103
Chapter 11 Giving Outright, via Loans, or in Trust? 107
Options 108
Sharing the Spirit 108
Making Loans Work 109
Why Trusts? 110
The Family Bank 113
Form versus Function 115
The What and Why of Giving
Chapter 12 What Families Give 121
Homes 121
Business Interests 125
Values 131
Rituals 134
Reputation 136
Chapter 13 The Why of Giving 141
Why Not 142
The Family Tree 144
Giving Thanks 146
About the Authors 151
Index 155
See More
James E. Hughes Jr., Esq., is a resident of Aspen, Colorado, and a retired attorney. Jay is the author of Family Wealth: Keeping It in the Family, and of Family–The Compact Among Generations, and numerous articles on family governance and wealth preservation as well as a series of "Reflections" which can be found on the Articles section of his website jamesehughes.com. He was the founder of a law partnership in New York City and has spoken frequently at numerous international and domestic symposia. He is a member of various philanthropic boards and a member of the editorial boards of various professional journals.
Dr. Susan E. Massenzio is a psychologist and founding Associate of Wise Counsel Research Associates, a think-tank and consultancy. Susan has extensive experience consulting to senior executives, leadership teams of Fortune 500 companies, and heads of family businesses. Susan served for many years as the senior psychologist for John Hancock Financial Services, a senior vice president at Wells Fargo Family Wealth, and professor and program director at Northeastern University. Susan is a member of the Collaboration for Family Flourishing.
Dr. Keith Whitaker is an educator and founding Associate with Wise Counsel Research Associates, a think-tank and consultancy. Keith has many years' experience consulting with advisors to and leaders of enterprising families. Keith served as a managing director at Wells Fargo Family Wealth, where he founded the innovative Family Dynamics Practice. He has also served as a researcher at the Center on Wealth and Philanthropy, a private trustee, a director of a private foundation, and a philosophy professor at Boston College.
See More