Textbook
The Pharmaceutical Studies Reader
ISBN: 978-1-118-48883-6
296 pages
May 2015, ©2015, Wiley-Blackwell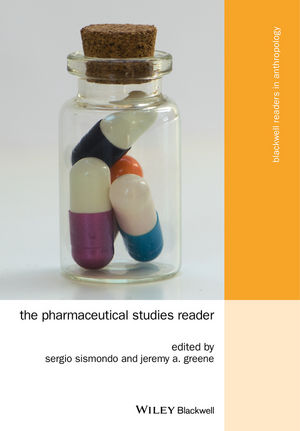 The Pharmaceutical Studies Reader is an engaging survey of the field that brings together provocative, multi-disciplinary scholarship examining the interplay of medical science, clinical practice, consumerism, and the healthcare marketplace.
Draws on anthropological, historical, and sociological approaches to explore the social life of pharmaceuticals with special emphasis on their production, circulation, and consumption
Covers topics such as the role of drugs in shaping taxonomies of disease, the evolution of prescribing habits, ethical dimensions of pharmaceuticals, clinical trials, and drug research and marketing in the age of globalization
Offers a compelling, contextually-rich treatment of the topic that exposes readers to a variety of approaches, ideas, and frameworks
Provides an accessible introduction for readers with no previous background in this area
See More
Acknowledgements vii
1 Introduction 1
Jeremy A. Greene and Sergio Sismondo
Part I Pharmaceutical Lives 17
2 The Pharmaceuticalisation of Society? A Framework for Analysis 19
Simon J. Williams, Paul Martin and Jonathan Gabe
3 Pharmaceutical Witnessing: Drugs for Life in an Era of Direct ]to ]Consumer Advertising 33
Joseph Dumit
Part II New Drugs, Diseases, and Identities 49
4 Releasing the Flood Waters: Diuril and the Reshaping of Hypertension 51
Jeremy A. Greene
5 Depession and Consum tion: Psychopharmaceuticals, Branding, and New Identity Practices 70
Nathan Greenslit
6 BiDil: Medicating the Intersection of Race and Heart Failure 87
Anne Pollock
7 Manufacturing Desire: The Commodification of Female Sexual Dysfunction 106
Jennifer R. Fishman
Part III Drugs and the Circulation of Medical Knowledge 121
8 Following the Script: How Drug Reps Make Friends and Influence Doctors 123
Adriane Fugh ]Berman and Shahram Ahari
9 Getting to Yes: Corporate Power and the Creation of a Psychopharmaceutical Blockbuster 133
Kalman Applbaum
10 Pushing Knowledge in the Drug Industry: Ghost ]Managed Science 150
Sergio Sismondo
11 Transcultural Medicine: A Multi ]Sited Ethnography on the Scientific ]Industrial Networking of Korean Medicine 165
Jongyoung Kim
Part IV Political and Moral Economies of Pharmaceutical Research 179
12 Uncommon Trajectories: Steroid Hormones, Mexican Peasants, and the Search for a Wild Yam 181
Gabriela Soto Laveaga
13 "Ready ]to ]Recruit" or "Ready ]to ]Consent" Populations? Informed Consent and the Limits of Subject Autonomy 195
Jill A. Fisher
14 Clinical Trials Offshored: On Private Sector Science and Public Health 208
Adriana Petryna
15 The Experimental Machinery of Global Clinical Trials: Case Studies from India 222
Kaushik Sunder Rajan
Part V Intellectual Property in Local and Global Markets 235
16 Intellectual Property and Public Health: Copying of HIV/AIDS Drugs by Brazilian Public and Private Pharmaceutical Laboratories 237
Maurice Cassier and Marilena Correa
17 Global Pharmaceutical Markets and Corporate Citizenship: The Case of Novartis' Anti ]Cancer Drug Glivec 247
Stefan Ecks
18 Generic Medicines and the Question of the Similar 261
Cori Hayden
Index 268
See More
Sergio Sismondo is Professor of Philosophy and Sociology at Queen's University, Canada. His current work, including a number of recent articles, explores the pharmaceutical industry's development and deployment of clinical research, focusing on intersections of marketing and science. He is the author and co-author of a number of books, including An Introduction to Science and Technology Studies, Second Edition (Wiley Blackwell, 2010) and The Art of Science (2003). He is Editor of the journal Social Studies of Science.
Jeremy A. Greene is Elizabeth Treide and A. McGehee Harvey Chair in the History of Medicine at Johns Hopkins University. His recent work focuses on the ways in which the development and consumption of therapeutics interact with our understandings of what it means to be sick or healthy, normal or abnormal. His broader research interests focus on the history of disease, the history of global health, and the history of the pharmaceutical industry and its interactions with medical research, clinical practice, and public health. He is the author of Generic: The Unbranding of Modern Medicines (2014) and Prescribing by Numbers: Drugs and the Definition of Disease (2007), as well as co-editor of Prescribed: Writing, Filling, Using, and Abusing the Prescription in Modern America (2012).
See More
More in this series