Critical Conversations For Dummies
ISBN: 978-1-118-49031-0
336 pages
March 2013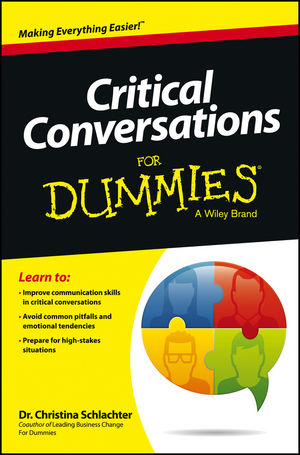 The easy way to communicate best when it matters most
Most people are aware of the importance of handling critical conversations well. However, when it comes down to actually being in a difficult situation that calls for key communication skills, many do not know how to practically apply their own thoughts.
Critical Conversations For Dummies is a step-by-step reference for the variety of crucial conversations life presents in the workforce. It's packed with strategies for preparing for high-stakes situations; being persuasive (not abrasive); knowing the value of assertive communication; resolving failed promises and missed deadlines; maintaining morale when firing staff; getting new employees off on the right foot; managing staff relations and strengthening team relationships; understanding audience needs and motivations to get positive results; altering confrontational language to cooperative language during difficult conversations; and building relationships in the face of conflict.
Improve communication skills in crucial conversations
Avoid common pitfalls and emotional tendencies
Discover the benefits of success in crucial conversations
This book is especially relevant to the hundreds of thousands of leaders who are tasked with multiple duties, whether addressing complex problems from stakeholders or achieving exceptional results from staff.
See More
Introduction 1
Part I: The Anatomy of a Critical Conversation 7
Chapter 1: Let's Get Critical! Making Conversations Count 9
Chapter 2: The Ins and Outs of a Critical Conversation 23
Chapter 3: Critical Conversations: Key Elements to Get You Started 43
Chapter 4: Delivering the Message with Impact 57
Chapter 5: Knowing When It's Time to Have a Critical Conversation 69
Part II: Making Sense of How You Communicate 83
Chapter 6: Building Effective Verbal Communication Techniques 85
Chapter 7: Grasping Nonverbal Cues 99
Chapter 8: Working with Different Communication Styles 113
Part III: Getting Down to Specifics: Creating a Critical Conversation 127
Chapter 9: Here's the Warm-Up: Getting Yourself Ready 129
Chapter 10: Keeping Challenging Situations Productive 143
Chapter 11: Closing the Conversation with Ease 159
Part IV: Putting It All into Practice 169
Chapter 12: Conversations in Good Times 171
Chapter 13: Conversations in Bad Times 185
Chapter 14: Dealing with Staff Disputes 199
Chapter 15: Identifying and Working through Workplace Complaints 215
Chapter 16: Resolving Difficult Behaviors with Critical Conversations 231
Chapter 17: Customer Conversations 249
Chapter 18: Hot Topics in Team Conversations 263
Part V: The Part of Tens 273
Chapter 19: Ten Benefits of Leading a Critical Conversation 275
Chapter 20: Ten Ways to Keep Your Cool No One Else Is 283
Chapter 21: Ten Ways to Manage a Conversation That's Going South 291
Index 299
See More
Christina Tangora Schlachter, PhD, is a Certified Professional Coach. She has created and taught courses on communication skills, crucial conversations for new managers, communication for professionals, and dealing with difficult conversations. She is the coauthor of Leading Business Change For Dummies and is the Chief Leader of She Leads.
See More