Premiere Pro CS6 Digital Classroom
ISBN: 978-1-118-49454-7
352 pages
December 2012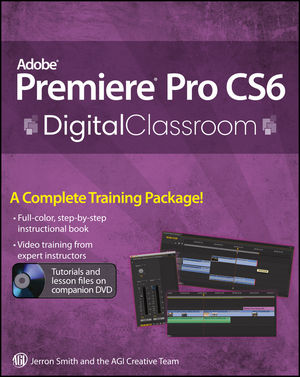 A Complete Training Package!
Full-color, step-by-step instructional book
Video training from expert instructors
Tutorials and lesson files on companion DVD
You have a personal tutor in the Digital Classroom
If you want expert instruction that fits into your schedule, the Digital Classroom series delivers. Expert instructors guide you through 11 lessons, helping you learn essential Premiere Pro CS6 skills at your own speed. Full-color, step-by-step instructions in the book are enhanced with video tutorials on the companion DVD. With this Digital Classroom training package, you have your own private instructor showing you the easiest way to learn Premiere Pro CS6.
Import video, audio, and still images and edit them together on the Timeline
Add transitions and effects to your video to make your projects more engaging and appealing
Automatically stabilize shaky footage with the Warp Stabilizer
Animate layered Photoshop files to create onscreen graphics
Create text and titles using the built-in Premiere Pro Titler
Use Adobe Encore to author your projects to disk or for web distribution
See More
Starting up
About Adobe Premiere Pro CS6 Digital Classroom 1
Prerequisites 1
System requirements 1
Starting Adobe Premiere Pro 3
Resetting the Adobe Premiere Pro preferences 3
Access lesson files and videos any time 4
Checking for updated lesson files 4
Loading lesson files 4
Locating missing media 5
Working with the video tutorials 6
Setting up for viewing the video tutorials 7
Viewing the video tutorials with the Adobe Flash Player 7
Additional resources 8
Lesson 1: Understanding Digital Video
Starting up 9
Understanding digital non-linear editing 9
Understanding video settings 10
Editing vs delivery formats 10
High definition vs standard definition 11
Progressive video vs interlaced video 12
Premiere Pro presets 13
Overview of the post production workflow 15
Media acquisition 15
Editorial development 15
Graphics development 16
Audio development 16
Finishing 16
Mastering 16
Output and delivery 16
Self study 17
Review 17
Lesson 2: Understanding the Workspace
Starting up 19
Understanding the Premiere Pro interface 20
Understanding the default Editing workspace 20
Understanding the tools 22
Customizing the interface 23
Opening, closing, and moving panels 24
Saving a custom workspace 29
Setting application preferences 30
Using the Project panel 31
Understanding media management 32
Creating and organizing bins 34
Modifying the Project panel display 37
Locating missing media 44
Self study 46
Review 46
Lesson 3: Making the Cut
Starting up 47
The cuts-only editing methodology 48
A Roll vs B Roll 48
Cut-ins and Cut-aways 48
Cutting on action 49
Trimming clips in the Source Monitor 49
Using multiple video tracks 54
Adding and deleting tracks 54
Renaming tracks 56
Adding clips to the Timeline 57
Trimming clips on the Timeline 60
Using the Razor tool 64
Making an Insert edit 67
Self study 71
Review 71
Lesson 4: Using Video Transitions
Starting up 73
Understanding video transitions 74
Adding transitions to video clips 75
Changing the timecode display 77
Preparing a clip to receive transitions 79
Adding a transition between clips 85
Editing transition settings 88
Creating an image slideshow 92
Self study 100
Review 100
Lesson 5: Working with Graphics
Starting up 101
Creating titles in Premiere Pro 102
Using the Titler 103
Creating a lower third 105
Adding text to the Titler 106
Formatting text boxes 109
Formatting text 114
Creating shapes 117
Adding images to a title 120
Saving a title style 123
Creating a title overlay track 124
Saving a title for later reuse 126
Creating an ending credit roll 127
Controlling the speed of a title roll 131
Editing titles 133
Working with Photoshop files 135
Importing layered Photoshop files 135
Animating the position of clips 138
Animating the opacity of clips 144
Self study 148
Review 148
Lesson 6: Using Video effects
Starting up 149
What are video effects? 150
Applying video effects 150
Creating a Black & White eff ect 150
Animating the opacity of clips 152
Adjusting the tonality of clips 156
Working with Track Mattes 159
Preparing the clip for a Track Matte 160
Applying and editing the Track Matte Key effect 161
Using the Ultra Keyer 163
Creating a garbage matte 165
Applying the Ultra Key 167
Spill Suppression and Color Correction 170
Using the Warp Stabilizer 171
Self study 174
Review 174
Lesson 7: Working with Audio
Starting up 175
Understanding digital audio 176
Understanding audio tracks 176
Stereo audio 176
Mono audio 177
5 1 audio 177
Stripping audio from a video file 178
Audio channel mapping 181
Adding audio tracks to the Timeline 185
Making a Three-Point edit on the Timeline 186
Setting volume keyframes 191
Improving audio in Premiere Pro 193
Self study 196
Review 196
Lesson 8: Advanced Editing Techniques
Starting up 197
Creating subclips 198
Using Automate to sequence 201
Making a Three-Point edit 203
Setting an In Point on the Timeline 203
Setting In and Out Points on a clip 205
Making Ripple and Roll Edits 207
Making Slip and Slide Edits 211
Adjusting the clip speed 214
Self study 216
Review 216
Lesson 9: Outputting Your Video
Starting up 217
Output for the Web and desktop 218
Flash video and the Flash player 218
Windows Media and the Silverlight player 218
QuickTime video and the QuickTime player 218
HTML5 Video 219
Understanding formats and codecs 219
Understanding temporal and spatial compression 220
Understanding bit rate 220
Understanding frame rate and resolution 220
Understanding aspect ratio and pixel aspect ratio 221
Progressive display vs interlacing 223
Exporting an H 264 file for mobile devices 223
Creating a custom export preset 227
Exporting with the Adobe Media Encoder 231
Self study 233
Review 233
Lesson 10: Capturing and Transferring Footage
Starting up 235
Creating a new project 236
Creating a new sequence 238
Creating a capture bin 240
Capturing from a tape-based camera 241
Transferring from a non-tape based camera 248
Backing up a project with Project Manager 248
Self study 251
Review 251
Lesson 11: Using Adobe Encore
Starting up 253
Downloading the Adobe Encore Library Content 254
Understanding the DVD/Blu-ray/Flash
authoring process 254
Understanding DVD formatting 254
Understanding Blu-ray formatting 255
About the project 255
Exporting an MPEG-2 DVD file 255
Creating a new Encore project 257
Using Adobe Dynamic Link in Encore 261
Creating a Timeline 264
Renaming chapter markers 268
Organizing the Project panel 269
Creating Menus 270
Linking buttons to chapter markers 278
Setting a fi rst play item 284
Previewing a DVD 285
Setting End and Override actions 287
Outputting the project 289
Review 292
Appendices
Appendix A: The Premiere Pro Panels 293
Appendix B: Adobe Premiere Pro Keyboard Shortcuts 303
Appendix C: Premiere Pro Input and Output formats 315
See More
Jerron Smith
is an animator, editor, and educator. He has worked with Adobe technologies for more than a decade and teaches web, interactive and new media classes at American Graphics Institute.
The AGI Creative Team develops and delivers training programs for creative, marketing, and communications professionals through the American Graphics Institute.
See More
November 07, 2012
Premiere Pro CS6 Digital Classroom
Connect with Wiley Publicity
In this video lesson from Premiere Pro CS6 Digital Classroom, instructor Jerron Smith shows you how to edit the volume of an audio track and add key frames to it so that you can make the volume fade up or down over time.
See More
Instructors Resources
Request a print evaluation copy
Contact us

See More
See Less
Learn more about