Corporate Governance Regulation: How Poor Management Is Destroying the Global Economy
ISBN: 978-1-118-49637-4
269 pages
February 2013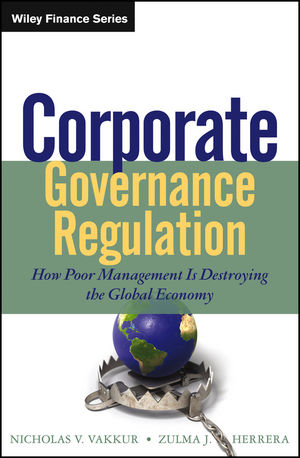 Why U.S. corporate governance regulation has lost its way, and what must be done to improve it
Modern history persuasively demonstrates the inexorable link that binds comprehensive regulation to the global economy. This important book, rather than simply recount a litany of corporate governance failures, persuasively explains why, despite policymakers' best intentions, regulation has failed in the modern era. An objective study intended for a diverse readership, Corporate Governance Regulation unveils the underlying, root causes of regulatory failure. The result: A compelling and original analysis, broadly suited for a global audience of all backgrounds.
Written by published, subject-area experts, the authors carefully delineate how U.S. corporate governance regulation, beginning with Sarbanes Oxley, lacks an adequate rational basis, as may be attributed to a non-existent policy dialogue
The witnessed result: A conspicuous lack of regulatory efficacy, enormous costs, coupled with paltry benefits
The focus is upon reigniting a stalled, non-productive policy dialogue, by eschewing stale, overly-polemicized arguments, as needed to develop a common ground
Drawing from an eclectic, analytic framework, governance experts Nicholas Vakkur and Zulma Herrera offer both the professional and global citizen alike a multi-dimensional understanding of issues critical to global economic health. Nuanced and persuasively argued, Corporate Governance Regulation represents a formidable catalyst in the elusive, ongoing quest for global economic stability.
See More
Preface ix
Introduction xiii
CHAPTER 1 Virtue Lost 1
Introduction 1
Methodology 4
Methodological Limitations 4
The Modern Corporation and Virtue 5
The Policy Framework 26
Conclusions 41
CHAPTER 2 An Introduction to WorldCom: A Policy Primer 47
Introduction 47
WorldCom 48
The Source of Conflict 50
Rules versus Laws 51
The Case for Intentionality 53
Regulatory Contribution 55
WorldCom as a Basis for the Sarbanes-Oxley Act 56
CHAPTER 3 The Enactment Process 59
Introduction 59
The Enactment Process 62
The Law's Effects 69
Current Arguments in Favor of the Sarbanes-Oxley Act 75
Institutional Precedents 78
CHAPTER 4 CEO Perception 81
Summary 81
Introduction 81
Summary of Relevant Literature 82
Survey 83
Results 84
Discussion 88
Appendix to Chapter 4 89
CHAPTER 5 Sarbanes-Oxley's Effect on Investor Risk 97
Summary 97
Introduction 98
Extending CAPM 99
Hypotheses 100
Evaluation of Risk 102
Estimation and Results 105
Discussion 114
CHAPTER 6 An Audit of Sarbanes-Oxley 125
Introduction 125
A Conceptual Foundation 126
Internal Controls 128
The Audit Framework 130
Effect on Unintentional Sources of Error 134
Effect on Corporate Malfeasance 138
Conclusions 146
CHAPTER 7 The Underlying Vision 149
Econometrics in Policy Analysis 149
A Model Predicated on ''Unobservables'' 151
Conclusions 165
CHAPTER 8 The Argument for Accountability 169
Introduction 169
Professional Liability 170
Policy Misuse 172
The Case for Culpability 174
The Improbability of Accountability 177
Conclusions 180
CHAPTER 9 Why Sarbanes-Oxley? 183
Introduction 183
Methodology 186
The Port Huron Statement 190
Why Sarbanes-Oxley? 202
Notes 205
About the Authors 263
Index 265
See More
NICHOLAS V. VAKKUR is the founder of Vakkur.org, a non-partisan think tank that helps corporations manage risk while positively influencing corporate governance policy. Widely published in leading U.S. and international scholarly journals, Mr. Vakkur has been cited before the U.S. Supreme Court, the U.S. Senate, the U.S. Department of Justice, and various foreign entities; has been covered frequently in the news media; and has been invited to speak to Wall Street CEOs. He is an assistant professor of accounting at Trident University and has served as the CFO of a global nonprofit organization. Mr. Vakkur graduated summa cum laude from the University of Notre Dame and has a master's degree in public policy.
ZULMA J. HERRERA, while with Goldman Sachs, participated at a senior level in various mergers of global corporations. Ms. Herrera has worked in-house with the executive teams of two global corporations and has served in a variety of senior roles within the technology industry. A noted corporate governance scholar, Ms. Herrera serves as the CEO of Vakkur.org, which enables corporate clients to manage risk effectively. Ms. Herrera graduated with honors from the University of Notre Dame and is acquiring an MBA.
See More