Project Management For Dummies, 4th Edition
ISBN: 978-1-118-49723-4
408 pages
April 2013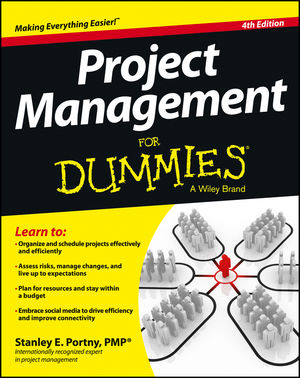 The bestselling "bible" of project management
In today's time-crunched, cost-conscious global business environment, tight project deadlines and stringent expectations are the norm. Now with 25 percent new and updated content, Project Management For Dummies introduces you to the principles of successful project management and shows you how to motivate any team to gain maximum productivity.
You'll learn how to organize, estimate, and schedule projects efficiently and effectively. You'll also discover how to manage deliverables, issue changes, assess risks, maintain communications, and live up to expectations by making the most of the latest technology and software—and by avoiding common problems that can trip up even the best project managers.
The latest information on measuring project management ROI and value to the organization (and customers)
Managing Continuous Process Improvement
Examples of formats used for different aspects of project management
Managing distressed projects and managing multiple team projects
Hierarchical decomposition and how it can dramatically improve the effectiveness of project planning and control
The latest trend of embracing the use of social media to drive efficiency and improve socialization
New information on managing and resolving conflicts that occur during a project
Explanations of concepts tested in the PMP certification exam with study tips and practices to help you pass
Project Management For Dummies gives professionals like you everything you need to be successful project managers.
See More
Introduction 1
Part I: Getting Started with Project Management 7
Chapter 1: Project Management: The Key to Achieving Results 9
Chapter 2: Knowing Your Project's Audience: Involving the Right People 29
Chapter 3: Clarifying What You're Trying to Accomplish — And Why 51
Chapter 4: Developing Your Game Plan: Getting from Here to There 77
Part II: Planning Time: Determining
When and How Much 105
Chapter 5: You Want This Project Done When? 107
Chapter 6: Establishing Whom You Need, How Much, and When 143
Chapter 7: Planning for Other Resources and Developing the Budget 165
Chapter 8: Venturing into the Unknown: Dealing with Risk 177
Part III: Group Work: Putting Your Team Together 197
Chapter 9: Aligning the Key Players for Your Project 199
Chapter 10: Defi ning Team Members' Roles and Responsibilities 213
Chapter 11: Starting Your Project Team Off on the Right Foot 235
Part IV: Steering the Ship: Managing Your Project to Success 255
Chapter 12: Tracking Progress and Maintaining Control 257
Chapter 13: Keeping Everyone Informed 281
Chapter 14: Encouraging Peak Performance by Providing Effective Leadership 301
Chapter 15: Bringing Your Project to Closure 315
Part V: Taking Your Project Management to the Next Level 327
Chapter 16: Using Technology to Enhance Project Planning and Management 329
Chapter 17: Monitoring Project Performance with Earned Value Management 343
Part VI: The Part of Tens 359
Chapter 18: Ten Questions to Ask Yourself as You Plan Your Project 361
Chapter 19: Ten Tips for Being a Better Project Manager 365
Appendix: Combining the Techniques into
Smooth-Flowing Processes 369
Index 373
See More
Stanley E. Portny is a project management consultant and a certified Project Management Professional (PMP®). He has provided training and consultation to more than 150 public and private organizations, and he has developed and conducted training programs for more than 50,000 management and staff personnel.
See More