Australia's Competitiveness: From Lucky Country to Competitive Country
ISBN: 978-1-118-49736-4
320 pages
May 2013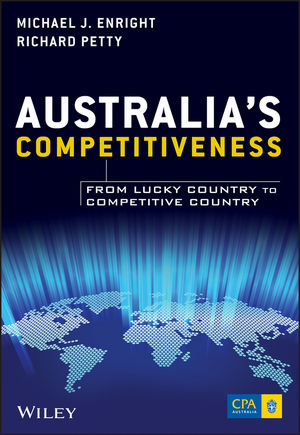 In this in-depth overview of Australia's economy, Michael Enright and Richard Petty — leading scholars on international competition—look at the data behind the news reports to offer a complete view of Australia's stable and wealthy economy. The book compares Australia with other similarly sized OECD economies as well as other Asia-Pacific economies and looks at fifteen international sources of data on competitiveness. It features a large-scale survey on Australian companies and offers deep insight on the country's future in terms of economics and economic policy. Revealing an honest assessment of Australia's true position in the world, the book looks at how Australian businesses see themselves and offers policy positions for government and firms to make the most of Australia's unique global economic position.
Backed by CPA Australia, one of the world's largest accounting bodies
Written by two global authorities on economic competitiveness
Captures the thinking of more than 6,000 business leaders both within and outside of Australia
Explains how Australia has weathered the global recession and looks at Australia's relationship with China
For business leaders and policy makers in need of an in-depth look at the current and future state of Australia's economy, this book offers valuable and comprehensive information.
See More
Foreword vii
Introduction ix
Acknowledgments xiii
About the Authors xv
CHAPTER 1 Australia's Economic Performance 1
Aggregate Performance 1
Productivity 11
Global Trends 16
Looking Ahead 24
Notes 25
CHAPTER 2 International Assessments of Australia's Competitiveness 27
Overall Competitiveness 28
Ease of Doing Business 32
Knowledge and Knowledge Economy 35
Economic Freedom 37
City Competitiveness 40
City Costs 42
Human Development and Quality of Living 42
Corruption and Corporate Governance 43
International Perspectives on Australia's Competitiveness 46
Areas for Analysis and Action 49
Pushing the Envelope 50
Notes 51
CHAPTER 3 Competitiveness in the Real World 53
A Model of Competitiveness: The Five Level Competitiveness Framework™ 53
Surveying Competitiveness: The Importance-Performance Competitiveness Analysis™ Approach 56
Moving Ahead 84
Notes 84
CHAPTER 4 Drivers of Competitiveness in Australia 87
Firm and Industry Drivers 87
Meso or Cluster-Level Drivers 91
Macro or National-Level Drivers 98
Meta or Supranational-Level Drivers 107
Competitiveness Drivers in Perspective 110
Notes 115
CHAPTER 5 Workforce, Infrastructure, and Natural Resources 117
Workforce 118
Infrastructure 125
Natural Resources 132
Input Issues in Perspective 140
Notes 141
CHAPTER 6 Economic Policy, Regulation, and Tax 147
Economic Policy 148
Regulation 155
Tax and Tax Policy 160
Policy Areas in Perspective 167
Notes 168
CHAPTER 7 The Knowledge Economy, the Asia-Pacific Region, and the Role of Cities 173
Australia and the Knowledge-Innovation Economy 174
The Rise of the Asia-Pacific Region 183
Competitiveness and Australia's Cities 198
The Knowledge Economy, Asia, and Cities in Perspective 206
Notes 207
CHAPTER 8 Scenarios for Australia's Economic and Business Future 213
Key Trends 213
Trends in Competitiveness 215
Some Specific Scenarios for Australia's Economic and Business Future 219
The Scenarios in Perspective 225
Notes 226
CHAPTER 9 Implications for Australia 227
Global Implications 227
Australian Implications 228
Australia and the Drivers of Competitiveness 231
Conclusions 260
Notes 263
Index 265
See More
Michael J. Enright, PhD, MBA, AB (Hons.), is Sun Hung Kai Properties Professor at the School of Business of the University of Hong Kong, Director of Asia-Pacific Competitiveness Programmes at the Hong Kong Institute of Economics and Business Strategy, and Director of Enright, Scott & Associates Ltd., a strategy consultancy. He has directed competitiveness studies in more than twenty countries and has advised numerous governments, major corporations, and multilateral organisations on six continents. He was a founder of The Competitiveness Institute, a global professional body with more than 2,000 members in over 100 countries.
Richard Petty, PhD, MCom (Hons.), BCom (Hons.), FCPA (Life), FAICD, is a Professor and Executive Director International at the Macquarie Graduate School of Management, Chairman of The Australian Chamber of Commerce, Hong Kong & Macau, a Past President and Chairman of CPA Australia, and chairman or director of several other companies. Professor Petty has more than twenty years of consulting experience and has advised numerous governments, major corporations, and multilateral organisations on doing business in Asia, particularly in China.
CPA Australia has a history that dates back to 1886, and today represents more than 144,000 finance, accounting and business professionals in 127 countries. While nearly 70 per cent of those reside in Australia, the organisation has been active in Asia since the early 1950s. It has nine offices and more than 30,000 members in the region. CPA Australia is committed to creative engagement with governments and their agencies, on behalf of its membership and in the broader public interest, to encourage the economic and social policies that foster improved productivity and competitiveness.
See More