Jewelry Making and Beading For Dummies, 2nd Edition
ISBN: 978-1-118-49782-1
384 pages
April 2013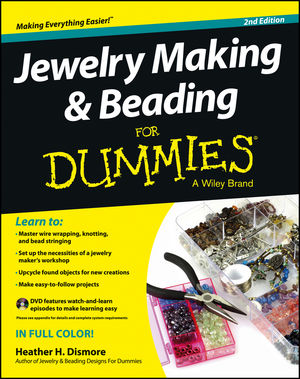 Make bracelets, necklaces, earrings, rings, pins, key chains, and more
Want to make jewelry and gifts from scratch? This new edition of Jewelry Making & Beading For Dummies provides the easy-to-understand information that makes it easy.
Updated information on getting started and setting up the necessities of a jewelry maker's workshop
New innovative ideas for materials such as making beads from scratch, customizing components like glass pendants, and up-cycling found objects for new creations
Updated trends including Victorian, Steampunk, Indian-inspired, and wrap bracelets
Advice on how to gain project ideas through websites like Pinterest without infringing on someone's rights
New and updated information on setting up a storefront, turning your hobby into a business, and gaining exposure through Etsy.com, blogs, and social media sites
From attaching clasps to working with wire to stringing beads, the companion DVD features watch-and-learn episodes that show you step-by-step how to create one-of-a-kind designs using beads, glass, found objects, special mementos, and more
With hundreds of detailed photos—now featured in full-color—Jewelry Making & Beading For Dummies is the ideal resource you'll turn to again and again to create one-of-a-kind jewelry pieces and assorted gifts.
See More
Introduction 1
Part I: Getting Started with Jewelry Making and Beading 5
Chapter 1: An Insider's Look at Jewelry Making and Beading 7
Chapter 2: Tricks and Tools of the Trade 19
Chapter 3: Making Magic with Beads, Crystals, Pearls, and Stones 43
Chapter 4: Creating Your Jewelbox: Setting Up Your Workshop 71
Part II: Discovering Simple Jewelry-Making Techniques 83
Chapter 5: Uncovering the Simple Secrets of Stringing and Knotting 85
Chapter 6: Winding It Up with Wire Wrapping 109
Chapter 7: Stamping Custom Metal Jewelry 131
Chapter 8: Combining Other Crafts with Jewelry Making  145
Part III: Implementing Design Ideas, Trends, and More  169
Chapter 9: Creating Fun, Funky Jewelry for Everyday Wear  171
Chapter 10: Designing High-End Jewelry 201
Chapter 11: Making Jewelry for Men 221
Chapter 12: Upcycling: Breathing New Life into Scraps and Vintage Pieces 235
Part IV: Building on Your Jewelry-Making Hobby 257
Chapter 13: Decorating with Jewelry and Beads 259
Chapter 14: Making Jewelry with Kids 277
Chapter 15: Hosting a Jewelry-Making Party 297
Chapter 16: Turning Your Hobby into a Business 309
Part V: The Part of Tens 331
Chapter 17: Ten (or So) Online Resources for Materials, Supplies, and More 333
Chapter 18: Ten Common Jewelry-Making Mistakes to Avoid 337
Chapter 19: Ten Great Ways to Make Money Selling Your Creations 341
Index 351
See More
Heather H. Dismore has been making unique jewelry pieces using simple materials, found objects, and everyday items for more than 20 years. Find her online at heatherdismore.com or connect with her on Twitter (@heatherdismore) and Pinterest (heatherdismore).
See More