E-book
Student's Gluten-Free Cookbook For Dummies
ISBN: 978-1-118-50238-9
368 pages
March 2013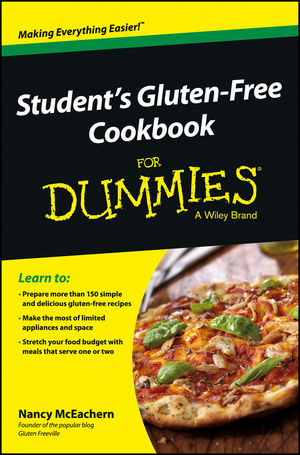 The easy, delicious, and nutritious way for students to eat gluten-free
At least 3 million Americans are affected by celiac disease, and as awareness of this genetic disorder grows, more people are adopting the required gluten-free lifestyle. Student's Gluten-Free Cookbook For Dummies is a perfect resource, featuring cooking and nutritional advice along with dishes that are tasty and simple for young adults to prepare using low-cost and easy-to-obtain ingredients.
Student's Gluten-Free Cookbook For Dummies shows you how to cook classic college meals such as pizza and pasta ... gluten-free. It tailors the information and recipes to your needs, considering time, cooking expertise, budget, and unconventional cooking methods. The book includes a brief explanation of gluten and the benefits of living without it, tips on reading labels and budgeting, and more than 160 recipes outlining the ingredients, cooking time (emphasizing any shortcuts), cost, and easy-to-follow directions. The recipes cover the categories of breakfast, lunch, dinner, dessert (including the challenge of gluten-free baking), easy-on-the-go snacks, and gluten-free entertainment food. This title includes dishes that can be assembled in about 5 minutes, microwave meals, tips for breathing new life into leftovers, and fancy meals to impress friends and family.
Features a wide variety of more than 160 healthy and hearty gluten-free recipes for every meal of the day
Includes easy on-the-go snacks, food that can be assembled in about five minutes, meals to impress, and much more
Recipes allow for a limited variety of appliances and space available to students
Thanks to Student's Gluten-Free Cookbook For Dummies, students who choose a gluten-free lifestyle, either for health reasons or simply by choice, can still enjoy delicious dishes that can be prepared quickly and easily.
See More
Introduction 1
Part I: Getting Started with Gluten-Free Cooking 7
Chapter 1: Gluten-Free 101 9
Chapter 2: Why Go Gluten-Free? 21
Chapter 3: Jumping Over Health Hurdles 29
Chapter 4: Surviving Social Situations 43
Chapter 5: Savvy Gluten-Free Shopping 53
Chapter 6: Prepping Your Space for Gluten-Free Cooking 61
Part II: Preparing Gluten-Free Goodies 79
Chapter 7: 5 Minutes or Less: Grab-and-Go Breakfasts 81
Chapter 8: 20 Minutes 'til Mealtime: Hearty Breakfasts 101
Chapter 9: 5 Minutes or Less: Quick Lunches 123
Chapter 10: 25 Minutes 'til Mealtime: Satisfying Sit-Down Lunches 147
Chapter 11: 10 Minutes or Less: Eat-on-the-Go Dinners 163
Chapter 12: 30 Minutes 'til Mealtime: Dinner Entrees 183
Part III: Going Beyond Three Squares 211
Chapter 13: Sensational Soups, Salads, and Sides 213
Chapter 14: Smart Study Snacks 243
Chapter 15: Dazzling Desserts 261
Chapter 16: Resurrecting Leftovers and Prepping Ahead 281
Part IV: The Part of Tens 295
Chapter 17: Ten Tips for Going to College Gluten-Free 297
Chapter 18: Ten Simple Ways to Make a Recipe Gluten-Free 303
Chapter 19: Ten Favorite Gluten-Free Product Lists 311
Appendix A: Resources 317
Appendix B: Metric Conversion Guide 319
Index 323
See More
Nancy McEachern, founder of glutenfreeville.com, is a business owner, consultant, author, speaker, champion of gluten-free issues, and mom to a gluten-free college student.
See More