E-book
Negotiating Commercial Leases & Renewals For Dummies
ISBN: 978-1-118-50252-5
360 pages
April 2013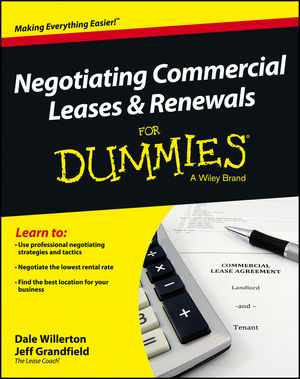 Negotiate commercial leases and renewals like a pro
Renting space for businesses and navigating a commercial lease can be a daunting task for those without expertise, as errors or oversights can cost thousands of dollars. Thankfully, Negotiating Commercial Leases & Renewals For Dummies takes the mystery out of the commercial leasing process and offers expert tips and advice to help small business owners successfully negotiate their leases???without losing their cool, or their cash.
From one of the industry's most respected and experienced consultants, Negotiating Commercial Leases & Renewals For Dummies provides tenants with tips and advice on finding the best location and amenities for a business; understanding space needs and maximizing lease space; ensuring fair operating costs and keeping rent fees at a manageable level; minimizing the deposit requirement; mastering and executing negotiation strategies and tactics; and much more.
Discover the rights and responsibilities associated with commercial leases
Find out how much negotiability and flexibility you can expect in commercial leases and renewals
Get to know which laws protect you and your business
Negotiating Commercial Leases For Dummies is essential reading for the more than 10 million business owners, entrepreneurs, retailers, restaurants, doctors, and franchise tenants who lease commercial, office, and retail space across North America.
See More
Introduction  1
Part I: Leasing 101 for Tenants  7
Chapter 1: Yes, You Can Negotiate a Great Commercial Lease 9
Chapter 2: Starting the Leasing Process 17
Chapter 3; Choosing the Building Type that Best Suits Your Needs 27
Chapter 4: Selecting the Most Profitable Site for Your Business 41
Chapter 5: Using Commercial Brokers and Real Estate Agents 55
Chapter 6: Selecting the Right Professional to Help You, the Tenant 71
Part II: Negotiating the Offer and Key Terms  83
Chapter 7: Presenting and Negotiating a Lease Proposal 85
Chapter 8: Negotiating the Business Terms of the Lease Deal 103
Chapter 9: Negotiating the Rental Rate 127
Chapter 10: Negotiating the Area (or Square Footage) 149
Chapter 11: Choosing your Commencement Date and Dealing with Construction 161
Chapter 12: Dealing with Deposits 175
Part III: Reviewing the Formal Lease Agreement and Dealing with the Landlord  187
Chapter 13: Understanding and Negotiating the Rest of the Lease 189
Chapter 14: Finalizing the Formal Lease Agreement 201
Chapter 15: Dealing with the Landlord 215
Part IV: Negotiating Your Lease Renewal  227
Chapter 16: Starting the Lease-Renewal Process 229
Chapter 17: Negotiating Renewal-Option Clauses and How to Best Exercise Them 253
Part V: The Part of Tens  267
Chapter 18: Ten Leasing Tips, Tactics, and Strategies for Tenants 269
Chapter 19: Ten Questions to Ask the Landlord's Real Estate Agent 277
Chapter 20: Ten (or So) Warnings: What No One Ever Tells Tenants 285
Glossary of Commercial Real Estate Terms  293
Index  319
See More
Dale Willerton and Jeff Grandfield are The Lease Coach, America's #1 authority on lease negotiating for commercial, retail, and office tenants. In 1993 former shopping center manager Willerton switched sides to work exclusively for tenants. Both authors frequently speak at industry trade shows, franchise events, healthcare conferences, universities, and business networking events throughout North America.
See More