PowerPoint 2013 For Dummies
ISBN: 978-1-118-50253-2
352 pages
March 2013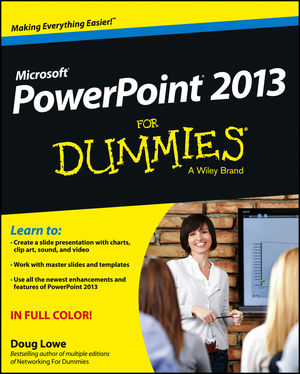 Get up and running with this full-color guide to PowerPoint 2013!
PowerPoint, the number one presentation software, has been revised and improved with the introduction of Microsoft Office 2013. With this all-new, full-color book by your side, you will learn how to take full advantage of all of PowerPoint's powerful and dynamic capabilities. Bestselling veteran For Dummies, author Doug Lowe breaks it all down so that you can create a powerful and effective slideshow presentation with the new wide-screen theme and variant that incorporates videos, pictures, and shapes, and allows you to create customized icons using powerful tools.
Shows you how to create presentations with pizzazz using the new collection of themes, and then helps you align shapes, text boxes, and graphics
Zeroes in on all of PowerPoint's updated features, such as zooming in and out smoothly, switch slides easily (in or out of sequence), and projecting to a second screen
Explains how to Place and track comments next to the text you're discussing so everyone can see who replied to whom, and when
Highlights ways to work with hyperlinks, create web pages with PowerPoint, video edit, and much more
PowerPoint 2013 For Dummies points you to the power of this updated application so that you can create effective and impressive presentations.
See More
Introduction 1
Part I: Getting Started with PowerPoint 2013 7
Chapter 1: Welcome to PowerPoint 2013 9
Chapter 2: Editing Slides 33
Chapter 3: Working in Outline View 49
Chapter 4: Proofi ng Your Presentations 55
Chapter 5: Don't Forget Your Notes! 65
Chapter 6: Show Time! 71
Part II: Creating Great-Looking Slides 87
Chapter 7: All about Fonts and Text Formatting 89
Chapter 8: Designing Your Slides 105
Chapter 9: Animating Your Slides 119
Chapter 10: Masters of the Universe Meet the Templates of Doom 135
Part III: Embellishing Your Slides 155
Chapter 11: Inserting Pictures 157
Chapter 12: Drawing on Your Slides 175
Chapter 13: Charting for Fun and Profit 193
Chapter 14: Working with SmartArt 211
Chapter 15: Lights! Camera! Action! (Adding Sound and Video) 223
Chapter 16: More Things to Insert on Your Slides 235
Part IV: Working with Others 261
Chapter 17: Collaborating in the Cloud 263
Chapter 18: Using a Slide Library and Other Ways to Reuse Slides 275
Chapter 19: Exporting Your Presentation to Other Formats 281
Part V: The Part of Tens 293
Chapter 20: Ten PowerPoint Commandments 295
Chapter 21: Ten Tips for Creating Readable Slides 299
Chapter 22: Ten Tips for Creating Readable Slides 303
Index 307
See More
Doug Lowe is the bestselling author of more than 40 For Dummies books. He's covered everything from Microsoft Office to creating web pages to technologies such as Java and ASP.NET, and has written several editions of both PowerPoint For Dummies and Networking For Dummies.
See More