E-book
Portfolio Investment Opportunities in Managed Futures
ISBN: 978-1-118-50294-5
68 pages
March 2013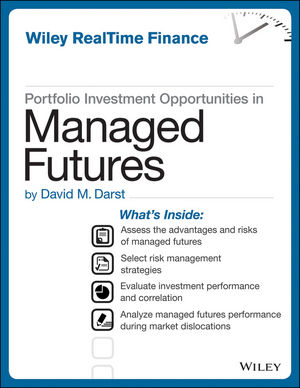 New research and investment strategies for asset managers in managed futures
In this handy new e-book, bestselling author David M. Darst provides the latest information on managed futures and their appropriate role within investment portfolios. The first section of the e-book covers select investment advantages and potential risks of managed futures, including historical background on futures, their advantages, risks involved, and key trends and drivers. The second section offers a summary of managed futures investment performance and correlation, including the performance of the major futures indices. The remaining sections provide an overview of the current investment landscape, a glossary of available indices, and important sources of further information. Portfolio Investment Opportunities in Managed Futures gives investors the information they need to make intelligent investment decisions in this important asset class.
Covers key factors investors need to know about managed futures, including advantages, risks, and investment performance
Written by David M. Darst, CFA, the bestselling author of The Little Book That Saves Your Assets
Perfect for individual investors, financial advisors, and CFAs interested in how managed futures can meaningfully improve the risk-reward profile of their portfolios
See More
About the Author vii

Introduction ix

1: Select Investment Advantages and Potential Risks of Managed Futures 1

Historical Background on Futures and Managed Futures 1

Distinguishing between Physical Commodities, Futures, and Managed Futures 2

Select Advantages of Managed Futures 3

Potential Investment Risks of Managed Futures Funds 5

Placing Managed Futures in an Investment Context 6

Essential Differences between Managed Futures and Other Asset Classes 8

Select Risk Management Strategies Pursued by Managed Futures Advisers 9

Special Considerations Associated with Managed Futures Funds 10

Fees and Expenses Associated with Managed Futures Funds 11

Investment Approaches of Managed Futures Funds 12

Select Insights into Managed Futures Returns Patterns 13

Managed Futures Funds Compared with Hedge Funds 15

Trend Characteristics and Underlying Drivers of Managed Futures 16

Evolution of the Futures Markets 16

Actively Traded Futures and Options Contracts in the United States 16

2: Summary of Managed Futures Investment Performance and Correlation 21

Select Managed Futures Indices' Performance 21

Managed Futures Returns during Financial Market Dislocations 25

The Barclay CTA Index and Survivorship Bias 26

Patterns of Managed Futures Returns 27

The CISDM CTA Equal-Weighted Index 32

Analysis of Select Asset Class Returns 35

3: Overview of the Investment Landscape 39

Global Futures Exchanges and Clearinghouses 41

4: Glossary of Indexes 45

5: Select Information Sources 49

Acknowledgments 51
See More
David M. Darst (New York, NY) is a Managing Director of Morgan Stanley and chairs the firm's Global Wealth Management Asset Allocation and Investment Policy Committee. He serves as Chief Investment Strategist of the Global Wealth Management Group, with responsibility for Asset Allocation and Investment Strategy, and was the founding President of the Morgan Stanley Investment Group. Mr. Darst joined Morgan Stanley in 1996, after more than 20 years with Goldman Sachs, where he served as a senior executive in the Equities Division. Previous responsibilities with Goldman included serving as Resident Manager of their private bank in Zurich. Darst is the author of four books: The Complete Bond Book, The Handbook of Bond and Money Markets, The Art of Asset Allocation, and Mastering the Art of Asset Allocation. He has also contributed numerous articles to Barron's, Euromoney, The Money Manager, and other publications. Darst is frequently quoted and regularly profiled in the business press including the New York Times, the Wall Street Journal, Reuters, Financial Times, among others. He is a frequent guest on CNBC, Bloomberg, and FOX News, and on radio shows. Darst earned his MBA from Harvard Business School and received a BA in Economics from Yale University, both of where he has served as a visiting faculty member. Darst also holds a CFA.
See More