E-book
Portfolio Investment Opportunities in China
ISBN: 978-1-118-50296-9
172 pages
July 2013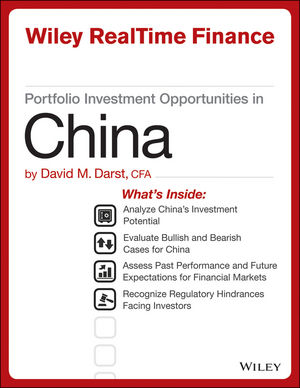 Essential research on the Chinese economy for investors and asset managers
In this handy new e-book, bestselling author David M. Darst provides the latest information on investment opportunities in China's growing economy. Constraints of language and time zones, geographical distance, foreign currency transaction costs, and political and cultural factors can make it difficult to assess, value, and invest in China's economy. Portfolio Investment Opportunities in China gives investors the information they need to make intelligent choices, including coverage of Chinese history, politics, and culture—all with an eye towards helping investors pinpoint those businesses and industries that offer the best potential returns.
Covers key factors western investors need to know about China, with specific focus on China's economy, investment landscape, and financial potential
Written by David M. Darst, CFA, the bestselling author of The Little Book That Saves Your Assets
Covers key factors western investors need to know about China, with specific focus on China's economy, investment landscape, and financial potential
See More
About the Author ix
Introduction xi
1: China at a Glance 1
Getting to Know the Chinese Language 2
Confucianism, the Cornerstone of Traditional Chinese Culture 3
Religion in China 4
Overview of the Chinese Calendar 5
Historical Chinese Cities 7
The First Five Special Economic Zones of China 9
Other Notable Chinese Cities 11
China's Five National Central Cities, Emerging Cities,
and Growing Middle Class 14
Transportation in China 16
Evolution of Modern Chinese Paper Currency 19
China's Political System 19
Five?]Year Plans of the People's Republic of China 24
China and Rare Earth Elements 26
China's Nuclear Energy Industry 27
China Investment Corporation 29
China's Foreign Exchange Reserves 30
Foreign Direct Investment Flows 31
China's Trade Activity with the United States 32
China's Trade Activity with the World 34
2: Issues for Consideration 37
Investment Trends 39
Intermediate?]Term Strengths and Hindrances in China 40
Potential Risks 41
Bullish Factors Affecting China's Economy and Markets 42
Bearish Factors Affecting China's Economy and Markets 45
China's Economy in Context 49
Three Scenarios for the Chinese Economy through 2020 50
The China Landscape: Megatrends 53
The China Landscape: Megatransition 57
China: The Middle?]Income Transition 58
China Nationally and Regionally Emulates Other Asian Nations 59
Chinese Affluent Consumer 61
China's Consumption May Be Understated 63
Three Pillars Underpin Rising Chinese Consumption
through 2020 65
Labor Supply and Workforce Trends in China 66
Demographic Trends in China 67
Increasing Urbanization Rates in China 70
China's Demand for Industrial Commodities 72
Business?]to?]Consumer (B2C) E?]Commerce and
Growing Internet Usage in China 72
China and India: A Critical Global Relationship 73
China and India: Expanding Strengths 75
China as a Superpower 77
3: Investing Background 79
China and Greater Asia Economic Forecast 83
Chinese Initial Public Offering Activity 86
Overview of China?]Related Equities 92
The MSCI China Index 100
China's Treasury Bond Market 107
China's Corporate Bond Market 107
Short?]Term Interest Rates in China 109
4: Understanding China's Investment Potential 111
Domestic Politics 112
The Economy 113
The Chinese Renminbi 115
Credit and Capital Markets 117
Geopolitics 117
China's Maritime Positioning 118
China's Property Market 120
Inflation and Deflation 123
Energy 126
Security 128
The Relationship between the United States and China 129
Other Issues 129
5: Overview of the Investment Landscape 137
Overview of Closed?]End Funds with Exposure to
Greater China 138
Overview of Private Equity/Venture Capital in China:
From Nascent Beginnings to Burgeoning Present Times 139
Chinese A Shares 141
Chinese B Shares 142
Chinese H Shares 143
Chinese Red Chip Shares 144
Chinese P?]Chip Shares 146
Select China?]Related Equity Indexes 147
Select China?]Related Equity Indexes 150
Overview of China ADRs 151
Overview of China Convertible Bonds 152
U.S., European, and Asian Corporations in China 152
6: Additional Sources and Disclosures 155
Select Web Sites 155
Books 155
Morgan Stanley Research Publications 158
Periodicals 160
Publications 164
Television Broadcasts 164
7: Glossary of Indexes 165
Acknowledgments 169
See More
David M. Darst (New York, NY) is a Managing Director of Morgan Stanley and chairs the firm's Global Wealth Management Asset Allocation and Investment Policy Committee. He serves as Chief Investment Strategist of the Global Wealth Management Group, with responsibility for Asset Allocation and Investment Strategy, and was the founding President of the Morgan Stanley Investment Group. Mr. Darst joined Morgan Stanley in 1996, after more than 20 years with Goldman Sachs, where he served as a senior executive in the Equities Division. Previous responsibilities with Goldman included serving as Resident Manager of their private bank in Zurich. Darst is the author of four books: The Complete Bond Book, The Handbook of Bond and Money Markets, The Art of Asset Allocation, and Mastering the Art of Asset Allocation. He has also contributed numerous articles to Barron's, Euromoney, The Money Manager, and other publications. Darst is frequently quoted and regularly profiled in the business press including the New York Times, the Wall Street Journal, Reuters, Financial Times, among others. He is a frequent guest on CNBC, Bloomberg, and FOX News, and on radio shows. Darst earned his MBA from Harvard Business School and received a BA in Economics from Yale University, both of where he has served as a visiting faculty member. Darst also holds a CFA.
See More