E-book
Portfolio Investment Opportunities in Precious Metals
ISBN: 978-1-118-50303-4
112 pages
October 2013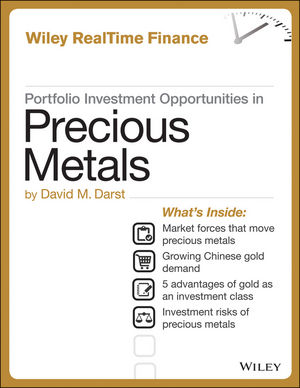 New research and investment strategies for asset managers in precious metals
In this handy new e-book, bestselling author David M. Darst provides valuable perspective on the role and positioning of gold and other precious metals within an economic, financial, and portfolio context. It covers the advantages and disadvantages, risks and rewards of investing in precious metals and sheds light on the key factors that drive prices, including supply and demand forces, inflation and deflation, geopolitical conditions, interest rates, and the global monetary system. The book also offers detailed information on specific vehicles that provide exposure to precious metals, as well as sources of further information available in print and online. Portfolio Investment Opportunities in Precious Metals gives investors the information they need to make intelligent investment decisions in precious metals.
Covers key factors investors need to know about precious metals, including advantages, risks, and investment performance
Written by David M. Darst, CFA, the bestselling author of The Little Book That Saves Your Assets
Perfect for individual investors, financial advisors, and CFAs interested in the role that precious metals play in investment portfolios
See More
About the Author ix
Introduction xi
Section 1: Advantages and Risks of Precious Metals 1
The Gold Debate 2
Fundamental Forces against Gold 3
Valuation Forces against Gold 3
Psychological, Technical, and Liquidity Forces against Gold 4
Fundamental Forces for Gold 5
Valuation Forces for Gold 8
Psychological, Technical, and Liquidity Forces for Gold 8
Section 2: Precious Metals Investment Performance and Correlations 11
Correlations of Annual Returns of Precious Metals 12
Principal Uses of Precious Metals 13
Section 3: Overview of Gold 15
History and Background of Gold 15
Why Central Banks Hold Gold 16
Gold Sales under Central Bank Gold Agreements (CBGA) 17
Major Central Banks' Gold Holdings 18
Gold as an Asset Class 19
Demand, Supply, and Global Gold Holdings 22
Jewelry and Net Retail Investment in Gold 23
Above-Ground Stocks of Gold, Demand and Supply Flows 24
The Price of Gold 26
Gold Demand Outlook 27
China and Gold Ore Reserves 28
Origins of Gold Demand in China 29
Long-Term Outlook for the Chinese Gold Market 30
China and Gold 31
India and Gold 31
Gold Price Relative to the S&P 500 32
Gold Prices during Periods of Uncertainty 32
Gold Price versus the DJIA and the S&P 500 34
Ratio of the Price of Gold to the Price of Silver 34
Annual World Production of Gold since 1900 34
Global Supply of and Fabrication Demand for Gold 36
Investment Performance of Gold Share Indices 37
Physical Gold 38
Section 4: Overview of Silver 41
History and Background of Silver 41
The Price of Silver 42
Annual World Production of Silver since 1900 44
Global Supply and Demand Data for Silver 44
Physical Silver 44
Section 5: Overview of Platinum and Palladium 47
History and Background of Platinum and Palladium 47
The Price of Platinum and Palladium 48
World Production of Platinum and Palladium 51
Global Supply and Demand Data 52
Physical Platinum and Palladium 54
Section 6: Overview of Precious Metals Companies 57
Select Factors Leading to Price Divergence between Precious Metals and Precious Metals Mining Shares 57
Select Precious Metals Mining Shares Indexes 57
NYSE Arca Gold BUGS Index 57
Philadelphia Stock Exchange Index 58
Market Vectors Junior Gold Miners Index 59
FTSE Gold Mines Index 61
S&P/TSX Global Gold Index 62
Examples of Precious Metals Companies 63
Precious Metals Futures and Options Contracts 64
Section 7: Select U.S. Legislation Affecting Gold 67
The Gold Confiscation Executive Order of April 5, 1933 67
The Trading with the Enemy Act of October 6, 1917 70
Executive Order 6102 of April 5, 1933: Forbidding the Hoarding of Gold Coin, Gold Bullion, and Gold Certificates 71
Reports of Safe Deposit Box Seizure 71
Section 8: Additional Information on Gold 73
Background Information on Gold 73
Characteristics 74
Monetary Exchange 74
History 75
Occurrence 76
Production 76
Consumption 77
Symbolism 77
State Emblem and State Mineral 77
The California Gold Rush and the Panic of 1857 78
When Wall Street Rescued the U.S. Treasury 79
Britain's 1999–2002 Sale of Gold Reserves 80
Switzerland and Gold 82
Gold Performance Relative to Real Interest Rates 84
Gold Investment Flows 84
Money Supply and Gold Price vs. Inflation 84
Operation of the Gold Market 86
Over-the-Counter Market 86
London Bullion Market 86
Futures Exchanges 86
Market Regulation 86
Section 9: Additional Sources and Disclosures 89
Select Websites 89
Books 89
Reports 92
Periodicals 93
Other 94
Disclosures 94
Acknowledgments 99
See More
David M. Darst (New York, NY) is a Managing Director of Morgan Stanley and chairs the firm's Global Wealth Management Asset Allocation and Investment Policy Committee. He serves as Chief Investment Strategist of the Global Wealth Management Group, with responsibility for Asset Allocation and Investment Strategy, and was the founding President of the Morgan Stanley Investment Group. Mr. Darst joined Morgan Stanley in 1996, after more than 20 years with Goldman Sachs, where he served as a senior executive in the Equities Division. Previous responsibilities with Goldman included serving as Resident Manager of their private bank in Zurich. Darst is the author of four books: The Complete Bond Book, The Handbook of Bond and Money Markets, The Art of Asset Allocation, and Mastering the Art of Asset Allocation. He has also contributed numerous articles to Barron's, Euromoney, The Money Manager, and other publications. Darst is frequently quoted and regularly profiled in the business press including the New York Times, the Wall Street Journal, Reuters, Financial Times, among others. He is a frequent guest on CNBC, Bloomberg, and FOX News, and on radio shows. Darst earned his MBA from Harvard Business School and received a BA in Economics from Yale University, both of where he has served as a visiting faculty member. Darst also holds a CFA.
See More