iPod and iTunes For Dummies, 10th Edition
ISBN: 978-1-118-50864-0
384 pages
March 2013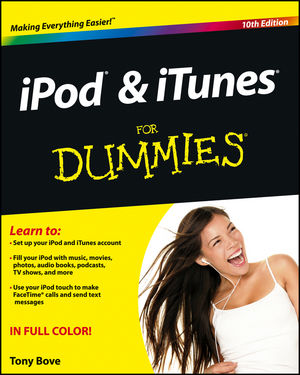 Get going with your iPod & iTunes and this perennial bestseller - now in full-color!
iPod & iTunes For Dummies is the ultimate beginner's guide for getting started with your iPod and Apple's iTunes service. Now in its tenth edition, this helpful guide has been completely overhauled and boasts a full-color format for the first time ever. Veteran For Dummies author Tony Bove introduces you to the different iPod models, explains how to power up your iPod, and shows you how to set up iTunes. You'll learn to personalize your device, add music tracks from a CD to your iTunes library, set up a playlist, sync your content and apps with iCloud, and much more.
Offers straightforward coverage of using your iPod as the ultimate digital music player and shows you how to choose the iPod model that's right for you, get started with your iPod, set up iTunes, master the touch interface, and shop at the iTunes Store
Teaches you how to add music tracks from a CD to your iTunes library, play content in iTunes, set up playlists, share content from your iTunes library, and manage photos and videos
Walks you through sending and receiving e-mail, downloading and using apps, fine-tuning sound, updating and troubleshooting, and maintaining battery life
Provides updates for iOS 6 and the latest iPod models and older favorites, including the iPod touch, iPod nano, iPod shuffle, and iPod classic
Get in tune with the latest and the greatest music, videos, and more! iPod & iTunes For Dummies, 10th Edition puts you on track to enjoying iTunes and your iPod today.
See More
Introduction 1
Part I: Touching All the Basics 7
Chapter 1: Powering Your iPod 9
Chapter 2: Setting Up iTunes and Your iPod 23
Chapter 3: Putting Your Finger on It 35
Chapter 4: Clocking, Locking, Connecting, and Personalizing 59
Part II: Managing Your Library 87
Chapter 5: Getting Started with iTunes 89
Chapter 6: Exploring the iTunes Store 109
Chapter 7: Getting in Sync with Your iTunes Library 127
Chapter 8: Syncing Your Day in the Life 149
Chapter 9: Putting iTunes to Work 161
Chapter 10: Playing Content in iTunes 175
Chapter 11: Gimme Shelter for My Media 191
Part III: Playing It Back with Interest 205
Chapter 12: The Songs Remain the Same 207
Chapter 13: Bring Videos, Books, and Podcasts 229
Chapter 14: Pocketing Your Pictures 239
Part IV: Touching the Online World 259
Chapter 15: Surfi n' Safari 261
Chapter 16: The Postman Always Rings Once 275
Chapter 17: Earth, Wind, and Finance 287
Part V: Staying in Touch and Up-to-Date 305
Chapter 18: A Day in the Social Life 307
Chapter 19: Resetting, Updating, and Restoring 333
Part VI: The Part of Tens 341
Chapter 20: Eleven Tangible Tips 343
Chapter 21: Ten Apps That Shook the iPod World 351
Index 355
See More
Tony Bove has written more than two dozen computer books, including all editions of iPod & iTunes For Dummies. Tony is also a professional musician. He blogs and offers tips about iPods, iPhones, iPads, iTunes, and the iLife applications at www.tonybove.com.
See More