E-book
Nexus 7 For Dummies (Google Tablet)
ISBN: 978-1-118-50872-5
288 pages
October 2012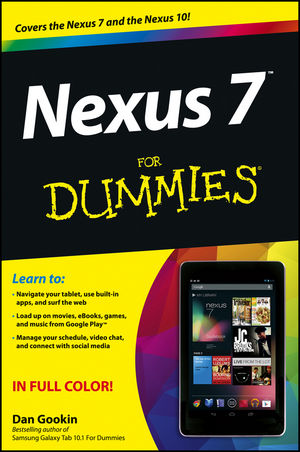 Friendly advice on leveraging the power of the new Nexus 7 Google tablet!
The arrival of the new Nexus 7 Google tablet is eagerly awaited, thanks to its cutting-edge software, top-notch hardware, unprecedented abilities, and nine-hour battery life. This easy-to-understand, engaging guide covers everything you need to know about this amazing Android tablet. Bestselling Dummies author Dan Gookin uses his friendly writing style to deliver clear instructions for setting up, navigating, and using the device. You'll learn to use all your favorite Google applications that come loaded on the device, personalize it, and much more.
Walks you through the touchscreen, wireless access, and software updates
Demonstrates how to download, shop for, and fill your Nexus 7 with movies, e-books, games, and music
Helps you keep on top of your schedule and appointments and pursue your interests and hobbies with the latest apps and websites
Offers guidance on using your device to navigate from here to there and stay connected with friends and family while you're away
Nexus 7 For Dummies is an essential companion to your other new companion: the Nexus 7!
See More
Introduction  1
Part I: Introducing the Nexus 7  7
Chapter 1: Behold the Nexus  9
Chapter 2: How It Works 23
Chapter 3: Text Typing and Editing  39
Part II: Keep in Touch 53
Chapter 4: Dealing with Your Friends  55
Chapter 5: Messages of the Electronic Kind  67
Chapter 6: On the Web  81
Chapter 7: Your Digital Social Life  93
Chapter 8: Text Chat, Video Chat, and Phone Calls  107
Part III: But Wait — There's More!  121
Chapter 9: There's a Map for That  123
Chapter 10: Name That Tune  135
Chapter 11: Other Amazing Feats  149
Chapter 12: More Apps at the Play Store  169
Part IV: Nuts and Bolts 181
Chapter 13: To Be Wireless  183
Chapter 14: Connect and Share  193
Chapter 15: On the Road  201
Chapter 16: Customize Your Nexus 7  205
Chapter 17: Maintenance and Troubleshooting  223
Part V: The Part of Tens  235
Chapter 18: Ten Tips, Tricks, and Shortcuts  237
Chapter 19: Ten Things to Remember  245
Chapter 20: Ten Great Apps  251
Index  257
See More
Dan Gookin is the bestselling author of the first For Dummies book. His books have been translated into 32 languages and have more than 12 million copies in print. Dan's bestsellers include Laptops For Dummies and Android Phones For Dummies.
See More