The Wiley Handbook of Sex Therapy
ISBN: 978-1-118-51037-7
536 pages
April 2017, Wiley-Blackwell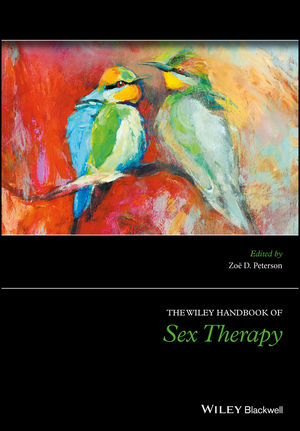 The Wiley Handbook of Sex Therapy is a comprehensive and empirically-based review of the latest theory and practice in the psychotherapeutic treatment of sexual problems across client populations.
Structured in four sections covering specific sexual dysfunctions, theoretical approaches to sex therapy; working with client diversity; and future directions in sex therapy
Advocates a holistic approach to sex therapy with a focus on using a range of psychotherapeutic theories and techniques rather than only the most popular behavioral strategies
Includes case studies which highlight the broad spectrum of diverse conditions that clients can experience and which sex therapists can therefore encounter in the consulting room
Includes contributions by more than 60 experts from a wide range of disciplines
See More
Notes on the Editor vii
Notes on the Contributors viii
Acknowledgements xvii
1 Introduction 1
Zoë D. Peterson
Section I Treating Specific Sexual Problems 9
2 Treating Women's Sexual Desire and Arousal Problems 11
Stephanie Both, Willibrord Weijmar Schultz and Ellen Laan
3 Treating Low Sexual Desire in Men 32
Stanley E. Althof and Rachel B. Needle
4 Treating Men's Erectile Problems 40
Pedro J. Nobre
5 Treating Women's Orgasmic Difficulties 57
Kristen M. Carpenter, Kristen Williams and Brett Worly
6 Treating Men's Orgasmic Difficulties 72
David L. Rowland and Stewart E. Cooper
7 Treating Genital Pain Associated with Sexual Intercourse 98
Marta Meana, Evan Fertel and Caroline Maykut
8 Treating Hypersexuality 115
Joshua B. Grubbs, Jan Paul Hook, Brandon J. Griffin, M. Scott Cushman, Joshua N. Hook and J. Kim Penberthy
9 Treating Sexual Offending 129
Dianne Berg, Rosemary Munns and Michael Miner
10 Treating Lack of Sexual Passion in Relationships 143
Laurie B. Mintz, Jackeline Sanchez and Rachel P. Heatherly
Section II Theoretical Approaches to Sex Therapy 163
11 A Traditional Masters and Johnson Behavioral Approach to Sex Therapy 165
Constance Avery‐Clark and Linda Weiner
12 A Psychobiosocial Approach to Sex Therapy 190
Barry McCarthy and Lana M. Wald
13 A Systemic Approach to Sex Therapy 202
Katherine Hertlein and Matthew Nelson
14 An Existential‐Experiential Approach to Sex Therapy 218
Peggy J. Kleinplatz
15 A Narrative Therapy Approach to Sex Therapy 231
Ron Findlay
16 An Emotionally Focused Approach to Sex Therapy 250
Sue Johnson
Section III Sex Therapy with Specific Populations 267
17 Treating Sexual Problems in Lesbian, Gay, and Bisexual Clients 269
Kenneth M. Cohen and Ritch C. Savin‐Williams
18 Treating Sexual Problems in Transgender Clients 291
Katherine G. Spencer, Alex Iantaffi and Walter Bockting
19 Treating Sexual Problems in Children and Adolescents 306
Sharon Lamb and Aleksandra Plocha
20 Treating Sexual Problems in Aging Adults 323
Jennifer Hillman
21 Treating Sexual Problems in Clients with Cognitive and Intellectual Disabilities 345
Sigmund Hough, John W. DenBoer, Eileen T. Crehan, Melissa T. Stone and Trisha Hicks
22 Treating Sexual Problems in Clients with Mental Illness 359
Stephanie Buehler
23 Treating Sexual Problems in Cancer Patients and Survivors 369
Eric S. Zhou and Sharon L. Bober
24 Treating Sexual Problems in Survivors of Sexual Trauma 389
Kathryn Hall
25 Treating Sexual Problems in Clients from Conservative Protestant and Catholic Backgrounds 407
Tommy E. Turner
26 Treating Sexual Problems in Clients who Practice "Kink" 420
Margaret Nichols and James P. Fedor
Section IV Future Directions in Sex Therapy 435
27 Mindfulness in Sex Therapy 437
Meg-John Barker
28 Integrating Sexual Partners into Pharmacological Sex Therapy 453
Helen M. Conaglen and John V. Conaglen
29 Self‐Help and Biblio‐Sex Therapy 468
Jacques J. D. M. van Lankveld
30 Internet‐Based Sex Therapy
See More
Zoë D. Peterson is Associate Professor in the Clinical Psychology Program, and Director of the Sexual Assault Research and Education Program, at the University of Missouri-St. Louis. She is also a Research Fellow of the Kinsey Institute for Research in Sex, Gender, and Reproduction at Indiana University and a licensed clinical psychologist in the state of Missouri. She has served as Associate Editor of the Journal of Sex Research and as Consulting Editor of Archives of Sexual Behavior. Her research covers a variety of issues related to sexuality with a particular focus on understanding unwanted and nonconsensual sexual experiences. She also provides clinical supervision to doctoral students, with an emphasis on the treatment of sexual and gender identity concerns. She teaches gender and sexuality courses at the graduate and undergraduate levels.
See More