E-book
The Savage Way: Successfully Navigating the Waves of Business and Life
ISBN: 978-1-118-51366-8
288 pages
October 2012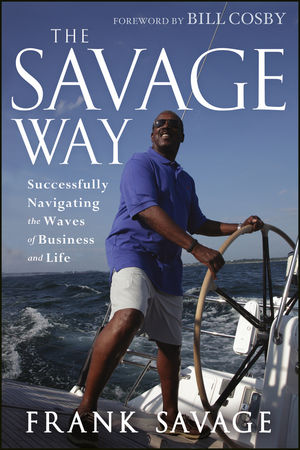 Inspiring lessons on business and life from Frank Savage
Frank Savage's is an unlikely success story. Raised in segregated Washington, DC, by his mother, a hairdresser and entrepreneur with little formal education, Savage's career has taken him around the world as a globetrotting financier. From his first banking job at Citibank to his current position as Chairman Emeritus of Howard University, The Savage Way shares the life and business lessons he learned along the way. This memoir relates the many starts and stops, successes and failures in his long career, from his involvement in the collapse of Enron, to his experience investing in Africa, to his days as a competitive yachtsman—always guided by the wisdom of the mother who taught him to transcend all limits.
A powerful memoir of an inspiring business leader
Savage is the current Chairman of his alma mater, Howard University, and the CEO of the global financial services company Savage Holdings LLC
A rare and inspiring story of personal and professional challenge and ultimate triumph, The Savage Way is a memoir that offers powerful inspiration and wisdom for tomorrow's business leaders.
See More
Foreword ix
Prologue 1
Chapter 1 Too Much Money 9
Chapter 2 Getting In, Struggling Out, Getting Right 35
Chapter 3 La Savage, the Source and Inspiration 69
Chapter 4 The Journey to True Origins 99
Chapter 5 My Journey Deepens 127
Chapter 6 The Longer Road Home 147
Chapter 7 Africa Calls Once Again . . . 167
Chapter 8 Walking Over a Bridge Not Burned 203
Chapter 9 Sailing Lolita, Pulling It All Together 227
Epilogue 255
Lolita Racing Record 259
Acknowledgments 263
Index 265
See More
FRANK SAVAGE, Chairman Emeritus of Howard University, served as chairman of Howard University from 1997 until 2004 and is credited with spearheading the widely successful Campaign for Howard. He is CEO of Savage Holdings LLC, a global financial services company. Prior to forming Savage Holdings, he was chairman of Alliance Capital Management International, a division of Alliance Capital Management, a $700 billion asset management subsidiary of AXA Equitable Life Insurance Company. Mr. Savage has had a distinguished career in international banking, corporate finance, and global investment management. He serves on the boards of several corporations and nonprofit organizations, including Bloomberg LP and the New York Academy of Medicine, having previously served on the boards of Lockheed Martin, Qualcomm, and the New York Philharmonic. Savage earned a BA from Howard University and an MA from the Johns Hopkins' Paul H. Nitze School of Advanced International Studies. He was awarded an Honorary Doctorate in Humane Letters from Hofstra University and an Honorary Doctorate of Humanities from Howard University. Perhaps the award he is proudest of is the prestigious Lord Nelson Trophy as 2003 overall winner of the annual Antigua Race Week Regatta.
See More