The Encyclopedia of Juvenile Delinquency and Justice
ISBN: 978-1-118-52032-1
1032 pages
November 2017, Wiley-Blackwell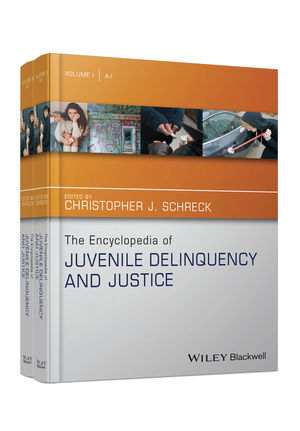 The Encyclopedia of Juvenile Delinquency and Justice is a compendium of more than 200 contributions written by leading scholars from the fields of criminal justice, justice sciences, social work, and sociology. It covers the latest research, policies, and practices regarding young offenders, the processing of juveniles within the court system, and various approaches to treating and eliminating juvenile crime. The origins and evolution of the juvenile justice system, the leading theories and major theorists in the field, and the empirical support for theories and policies designed to reduce delinquency are all discussed in depth.
Organized alphabetically, the Encyclopedia is arranged by three key sections. The first section focuses on juvenile delinquents and delinquency, specifically the causes, correlates, and experiences of at-risk youth. The second section provides a comprehensive review of the system developed to address juvenile offending, including the historic origins of juvenile courts and the cases that have shaped the contemporary system. In the final section, authors explore current treatment programs and policy initiatives designed to mitigate and/or prevent juvenile delinquency.
Key topics covered include: Juvenile Delinquency, Explanations of Delinquency, Correlates and Contexts of Delinquency; and all aspects of Juvenile Justice and Juvenile Justice Policy.
An indispensable reference resource, The Encyclopedia of Juvenile Delinquency and Justice is essential reading for both students and professionals engaged in the fields of criminology, juvenile delinquency, justice administration, and sociology. This work is also available as an online resource at www.encyclopediaofjuveniledelinquency.com.
See More
Christopher J. Schreck, is Professor of Criminal Justice at the Rochester Institute of Technology.
Associate Editors:

Michael Leiber, is Interim Chair and Professor in Criminology at the University of South Florida.
Holly Ventura Miller, is Assistant Professor of Criminal Justice at the University of Texas, San Antonio.
Kelly Welch, is Associate Professor in the Department of Sociology and Criminal Justice at Villanova University.
See More
More in this series