Textbook
Fundamentals of Microelectronics, Binder Ready Version, 2nd Edition
ISBN: 978-1-118-52097-0
928 pages
April 2013, ©2013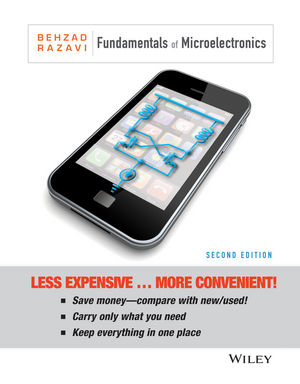 Fundamentals of Microelectronics, 2nd Edition is designed to build a strong foundation in both design and analysis of electronic circuits this text offers conceptual understanding and mastery of the material by using modern examples to motivate and prepare readers for advanced courses and their careers. The books unique problem-solving framework enables readers to deconstruct complex problems into components that they are familiar with which builds the confidence and intuitive skills needed for success. 


See More
More real-world application examples for key concepts.
More computational problems as well as the symbolic problems that are a Razavi hallmark. 
New application sidebars that show practical examples of theory in action.
New self-check practice problems with answers provided.
New simulation problems using PSPICE and MULTISIM.
A clearer separation of problems by chapter section, with several basic, moderate and challenging problems in each section.
See More
Challenges students to develop the skills of analysis and synthesis in problem-solving. 
Utilizes an analysis by inspection approach in which students learn to 'read' complex circuits as variations and combinations of simpler typologies.  By mapping complex circuits to their simpler constituents, students can more efficiently analyze circuit behavior than if they attempted to force the application of the equations they learned in their circuits course.
Provides numerous problems that require symbolic, rather than numeric solutions, so that students are forced to address problems conceptually, rather than as an exercise in calculation.
See More