E-book
Living Gluten-Free For Dummies - UK, 2nd UK Edition
ISBN: 978-1-118-53097-9
424 pages
March 2013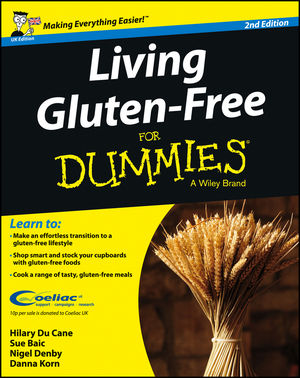 Whether you have a wheat allergy, gluten intolerance, coeliac disease, or simply want to enjoy the benefits of a diet free from wheat, barley and rye, then this book is for you. It explains the basics of gluten intolerance and the medical problems associated with it, plus practical guidance on how to make the transition to a gluten-free lifestyle.
Packed with delicious recipes, tips on eating out, and updated information on new food labelling legislation, testing methods and product availability, Living Gluten-Free For Dummies is your essential guide to making gluten-free living easy.
Includes new and updated content on:
What you can and can't eat on a gluten-free diet, and how readily available gluten-free foods are in the UK
Shopping with success and deciphering newly-introduced food labels
Cooking crowd-pleasing gluten-free meals using an increasing range of gluten-free products
Raising happy gluten-free kids
See More
Introduction  1
Part I: Ready, Set, Going Gluten-Free 9
Chapter 1: Getting Started: Going Gluten-Free 11
Chapter 2: Going Gluten-Free: Who's Doing It and Why 25
Chapter 3: Taking a Closer Look at Coeliac Disease 45
Part II: Digging Deeper into Living Gluten-Free 61
Chapter 4: Grasping the Ground Rules of the Gluten-Free Diet 63
Chapter 5: Scrutinising the Evidence: Making Sure It's Gluten-Free 93
Chapter 6: Acquiring a Taste for Nutritious Gluten-Free Health 109
Part III: Taking the Plunge: How to Go Gluten-Free  135
Chapter 7: Going Gluten-Free Right Now: A Quick-Start Guide 137
Chapter 8: Making Sense of Smart Gluten-Free Shopping 147
Chapter 9: Tips and Techniques for Gluten-Free Cooking and Eating at Home 161
Part IV: Scrumptious Recipes for Gluten-Free Food  177
Chapter 10: First Things First: Breakfast and Brunch 179
Chapter 11: Stylish Starters 201
Chapter 12: Sensational Soups, Salads and Sides 225
Chapter 13: Mastering Mouth-Watering Main Meals 247
Chapter 14: The Sauce Resource 267
Chapter 15: Making Your Own Pizza, Pasta, Tortillas and Breads 285
Chapter 16: Sweet Treats 301
Part V: Living – and Loving – the Gluten-Free Lifestyle  317
Chapter 17: Getting Out and About: Gluten-Free Eating Away from Home 319
Chapter 18: Raising Happy, Healthy, Gluten-Free Kids 337
Chapter 19: Beating the Gluten-Free Blues: Overcoming Emotional Obstacles 359
Part VI: The Part of Tens  377
Chapter 20: Ten Tips to Help You (Or Your Child) Love the Gluten-Free Lifestyle 379
Chapter 21: Ten Reasons to Join Coeliac UK 383
Index  393
See More
Hilary Du Cane is a freelance Registered Dietitian who works closely with Coeliac UK, caterers and food producers, helping to raise awareness of gluten-related disorders and the importance of healthy eating for a happy, successful life. A coeliac herself, Hilary is uniquely qualified to provide both personal and professional perspectives on managing the the gluten-free lifestyle successfully.
See More