Positive Academic Leadership: How to Stop Putting Out Fires and Start Making a Difference
ISBN: 978-1-118-53192-1
288 pages
April 2013, Jossey-Bass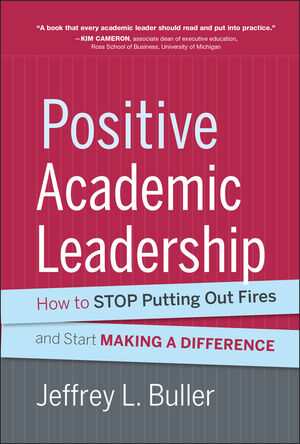 The alternative to negative academic leadership is a style that is essentially positive, taking its cues from the movement known as positive psychology. Rather than devoting all of one's attention to solving problems, it emphasizes strengthening what's working well. The difference between negative and positive leadership may be best understood by contrasting why one goes to a doctor and why one goes to a personal trainer. The former tries to heal what's ailing; the latter tries to strengthen what's healthy. Positive academic leaders are equivalent to personal trainers for the programs they lead, and the result can be a truly transformative academic experience. This new book gives academic leaders new insights and practical tools, as well as language and strategies, for fostering a more constructive leadership style that plays to the strengths rather than the weaknesses of their institutions. 
See More
About the Author ix
Introduction xi
PART ONE Exploring Positive Academic Leadership
1 What Positive Leadership Means 3
2 Alternative Approaches to Academic Leadership 25
3 Applying the Positive Leadership Model to Higher Education 43
PART TWO Positive Approaches for Yourself
4 Positive Language 67
5 Positive Perspectives 83
6 Positive Strategies 101
PART THREE Positive Approaches for Faculty, Staff, and Students
7 The Academic Leader as Coach 123
8 The Academic Leader as Counselor 143
9 The Academic Leader as Conductor 161
PART FOUR Positive Approaches for Higher Education as a Whole
10 Positive Administration Throughout the Institution 183
11 The Crisis Industry and How Positive Leaders Should Respond to It 205
12 Playing to Our Strengths 227
Index 249
See More
Jeffery L. Buller is dean of the Harriet L. Wilkes Honors College at Florida Atlantic University. He is the author of Academic Leadership Day by Day; The Essential Department Chair; The Essential Academic Dean; The Essential College Professor; and Best Practices in Faculty Evaluation, all from Jossey-Bass.
See More
Learn more about