Textbook
Essentials of Corrections, 5th Edition
ISBN: 978-1-118-53721-3
464 pages
January 2014, ©2014, Wiley-Blackwell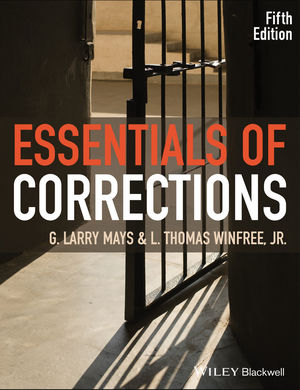 The fifth edition of this leading "essentials" textbook on corrections has been fully revised and updated to include new international comparative data, and a fresh chapter on prison inmates with special needs. Unrivalled in scope, it offers undergraduates a concise but comprehensive introduction to the subject.
Includes textual materials and assignments formulated to encourage students' critical thinking skills
Chapters feature text boxes on key points of correctional theory and on international correctional practice
Presented in full color throughout — including extensive photos and graphics
Includes stand-alone chapters on careers in corrections, gender and ethnicity issues, and likely future developments in corrections
Features invaluable historical context on the evolution of correctional theory and practice
Offers a new, comprehensive online Student Study Guide and thoroughly updated and expanded ancillary materials
See More
Detailed Contents viii
Preface xv

1 Introduction to Corrections 1
2 A Brief History of Punishments and Corrections 26
3 Sentencing and Criminal Sanctions 51
4 Probation and Community Corrections 75
5 Jails and Detention Facilities 108
6 Institutional Corrections 135
7 Jail and Prison Inmates 165
8 Special Needs Inmates 193
9 Parole and Prisoner Reentry 226
10 Careers in Corrections 255
11 The Administration of Corrections Programs 282
12 Corrections Law and Inmate Litigation 306
13 Gender Issues in Corrections 329
14 Race, Ethnicity, and Corrections 362
15 The Future of Corrections 389
Glossary 416
Index 432
See More
G. Larry Mays
is Regents Professor Emeritus at New Mexico State University, USA. He has published more than 100 journal articles, practitioner texts, book chapters, and encyclopedia entries. The author of
Juvenile Delinquency and Juvenile Justice
(Wiley, 1987), his recent publications include
American Courts and the Judicial Process
(2012), and
Do the Crime, Do the Time
(2012). Professor Mays has received numerous accolades, including the Carnegie Foundation's Professor of the Year award for the state of New Mexico, and is a life member of the Academy of Criminal Justice Sciences and a member of the American Society of Criminology.
L. Thomas Winfree, Jr. is Visiting Professor in the School of Criminology and Criminal Justice at Arizona State University, USA, and formerly Professor of Criminal Justice at New Mexico State University, USA. A sociologist with four decades of experience researching and writing about correctional institutions, probation and parole, juvenile justice, and criminological theory, Professor Winfree is author or co-author of more than 120 scholarly articles and book chapters, as well as four textbooks in many editions. His publications include Crime and Justice: An Introduction (1992), Understanding Crime: Essentials of Criminological Theory (third edition, 2010), and Juvenile Justice (fourth edition, 2012). He is a member of the American Society of Criminology and the Academy of Criminal Justice Sciences.
See More
"Serving as knowledgeable tour guides, Professors Mays and Winfree take readers on an exciting journey across the correctional landscape—from sentencing, to community supervision, to life behind bars. Scholarly yet accessible, Essentials of Corrections is both ideal for classroom use and a valued addition to one's personal library." 
— Francis T. Cullen, University of Cincinnati



"Essentials of Corrections provides a comprehensive overview of the field by authors who have successfully balanced their coverage of both the breadth and depth of essential issues in American corrections."  
—Rick Ruddell, University of Regina
See More
Instructors Resources
Request a print evaluation copy
Contact us

Contact your Wiley Representative
Find Your Rep

See More
See Less