E-book
Zig Zag: The Surprising Path to Greater Creativity
ISBN: 978-1-118-53911-8
288 pages
February 2013, Jossey-Bass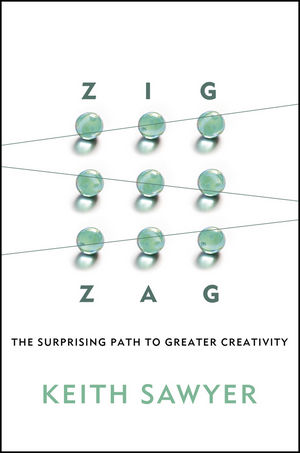 A science-backed method to maximize creative potential in any sphere of life
With the prevalence of computer technology and outsourcing, new jobs and fulfilling lives will rely heavily on creativity and innovation. Keith Sawyer draws from his expansive research of the creative journey, exceptional creators, creative abilities, and world-changing innovations to create an accessible, eight-step program to increasing anyone's creative potential. Sawyer reveals the surprising secrets of highly creative people (such as learning to ask better questions when faced with a problem), demonstrates how to come up with better ideas, and explains how to carry those ideas to fruition most effectively.
This science-backed, step-by step method can maximize our creative potential in any sphere of life.
Offers a proven method for developing new ideas and creative problem-solving no matter what your profession
Includes an eight-step method, 30 practices, and more than 100 techniques that can be launched at any point in a creative journey
Psychologist, jazz pianist, and author Keith Sawyer studied with world-famous creativity expert Mihaly Csikszentmihalyi
Sawyer's book offers a wealth of easy to apply strategies and ideas for anyone who wants to tap into their creative power.
See More
Introduction: Choosing Creativity 1
Step One ASK: How the Right Questions Lead to the Most Novel Answers 19
Find the Question
Search the Space
Transform the Problem
Step Two LEARN: How to Prepare Your Mind for Constant Creativity 49
Practice Deliberately
Master Your Domain
Learn Forever
Balance Specialty with Generality
Step Three LOOK: How to Be Aware of the Answers All Around You 73
Use Fresh Eyes
Grab New Sights and Cool Sounds
Render It Visible
Step Four PLAY: How to Free Your Mind to Imagine Possible Worlds 101
Visualize
Relax
Find the Right Box
Be a Beginner
Step Five THINK: How to Have Way More Ideas Than You'll Ever Need 129
Ideate
Transform
Schedule
Step Six FUSE: How to Combine Ideas in Surprising New Ways 153
Force-Fuse
Make Analogies
Do a People Mash-Up
Step Seven CHOOSE: How to Pick the Best Ideas and Then Make Them Even Better 173
Know What You're Looking For
Host an Idea Competition
Look Past the Good
Edit, Revise, Improve
Step Eight MAKE: How Getting Your Ideas Out into the World Drives Creativity Forward 195
Draw It
See It
Build It
Make It Concrete
Reflect on It
Conclusion 215
Appendix A: Outline of All of the Steps, Practices, and Techniques 229
Appendix B: The Research Behind the Eight Steps 237
References 243
Acknowledgments 261
About the Author 263
Index 265
See More
Keith Sawyer, PhD, is associate professor of psychology, education, and business at Washington University in St. Louis. An accomplished jazz pianist and former video game designer for Atari, he has published widely on the topics of collaboration and creativity. His book Group Genius won awards from Library Journal and (800) CEO-READ and has been translated into many languages. He is the proud owner of a collection of vintage Grateful Dead bootleg tapes, his childhood piano teacher's old (but working) accordion, and a 1982 BMW motorcycle (also working). To learn more, visit keithsawyer.com.
See More