Urban Rhythms: Mobilities, Space and Interaction in the Contemporary City
ISBN: 978-1-118-54054-1
174 pages
September 2013, Wiley-Blackwell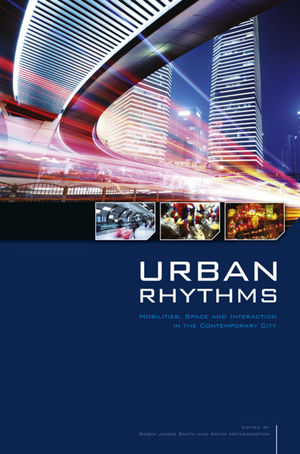 This insightful collection of papers on the contemporary cityscape explores the rhythms of urban flows, temporalities and interactions. It interprets the city as a complex whole, interwoven with networks and constant movement, and offers case studies of global metropolises from Manchester to Rio de Janeiro, Cardiff to Jakarta.
Wide-ranging interdisciplinary analysis
Combines urban theory with informed empirical research
Includes studies of cities across the urbanizing world, from Rio de Janeiro to Jakarta
A profound and engaging commentary on the constantly evolving rhythms of the city
See More
Series editor's introduction (Chris Shilling)
1. Urban rhythms: mobilities, space and interaction in the contemporary city (Robin James Smith and Kevin Hetherington)
2. Rhythm and noise: the city, memory and the archive (Kevin Hetherington)
3. Contested urban rhythms: from the industrial city to the post-industrial urban archipelago (Stavros Stavrides)
4. Points of departure: listening to rhythm in the sonoric spaces of the railway station (George Revill)
5. Carnival crowds (Beatriz Jaguaribe)
6. No time out: mobility, rhythmicity and urban patrol in the twenty-four hour city (Robin James Smith and Tom Hall)
7. Majority time: operations in the midst of Jakarta (AbdouMaliq Simone and Achmad Uzair Fauzan)
8. From momentary to historic: rhythms in the social production of urban space, the case of Calçada de Sant'Ana, Lisbon (Panu Lehtovuori and Hille Koskela)
9. Communicating the rhythms of retromodernity: 'confused and mixed Shanghai' (Amanda Lagerkvist)
Notes on contributors
Index
See More
Robin Smith teaches sociology and qualitative methodology at Cardiff University. His existing research has been broadly focused upon the interaction order of everyday urban public space. He is, in particular, interested in the street-level accomplishment and politics of encounter, mobility and territory. 
Kevin Hetherington is Professor of Geography at the Open University where he is currently Dean and Director of Studies in the Faculty of Social Sciences. He previously held a Chair in Cultural Sociology at Lancaster University and has worked across the boundary of both disciplines for most of his career. He currently researches on issues of museums, heritage and urban regeneration and social and spatial theory.  His seven books include The Badlands of Modernity (1997), Capitalism's Eye (2007), and (with Anne Cronin) Consuming the Entrepreneurial City (2008). He is currently writing a book on museums. He is a member of several editorial boards including a recent re-appointment to the board of The Sociological Review having been previously involved from 1994-2003.  He was a founding co-editor of the journal Museum and Society (co editor from 2003-09) and currently co-edits the book series Culture, Economy and the Social for Routledge.
See More
More in this series