OneNote 2013 For Dummies
ISBN: 978-1-118-55056-4
224 pages
May 2013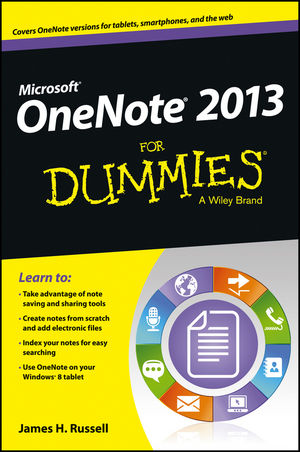 A quick guide to using Microsoft OneNote on tablets, online, or on your desktop
OneNote is the note-taking-and-sharing application that's part of Microsoft Office. It lets you create notes by hand, as audio, or by clipping items from other electronic formats to create a file that can be indexed and searched. With the release of Office 2013, OneNote has been integrated with Windows 8-powered tablet platforms and offers advanced mobile-enhanced features. This guide includes all the basic information, guidance, and insight you need to take full advantage of everything OneNote can do for you.
OneNote is the Microsoft Office note-taking application that lets you make notes and clip items from electronic media to create a searchable file
This friendly, plain-English guide shows you how to use OneNote online, on your desktop PC, or on your Windows-powered tablet
Helps you take advantage of this highly useful and often-overlooked application
OneNote 2013 For Dummies gets you up and running with OneNote quickly and easily.
See More
Introduction 1
Part I: Getting Started with OneNote 2013 5
Chapter 1: OneNote Basics 7
Chapter 2: Managing Notes and Configuring OneNote 23
Chapter 3: Formatting Notes 41
Chapter 4: Inserting External Data and Taking Quick Notes 59
Chapter 5: Securing and Managing Notes with SkyDrive 77
Part II: Taking Notes via Other OneNote Versions 89
Chapter 6: Taking Notes with OneNote for Windows 8 91
Chapter 7: Taking Notes on Android Devices 107
Chapter 8: Taking Notes on iOS Devices 121
Chapter 9: Managing and Taking Notes with OneNote Web App 131
Part III: Putting OneNote Through Its Paces 141
Chapter 10: Sharing and Collaborating with OneNote 143
Chapter 11: Taking Notes in the Real World 155
Part IV: The Part of Tens 171
Chapter 12: Ten (or So) Resources and Add-Ins for OneNote 173
Chapter 13: Ten Killer Tips for OneNote 179
Index 185
See More
James H. Russell is a technology writer and journalist who specializes in PC hardware and software, tablet computing, and social media. He writes for numerous online periodicals, and in 2012 Mashable.com named him one of 101 experts to follow on Google+.
See More